On the surface, the sugar crisis in Uttar Pradesh may seem to be inching closer to a resolution. But cane farmers may have unwittingly mortgaged their land, signing up for crop loans from public sector banks, with the money so raised being used by the mills to pay arrears of a different set of farmers.
This model, of mills rotating working capital loans from banks, to deliver pending payouts to farmers has reportedly been on for the last several cane crop seasons.
In Uttar Pradesh's sugar industry , the biggest industry in the state, the crop loans concept has been twisted to suit the interest of three interest groups in the value chain — the cane farmer, the crushing mills and PSU banks.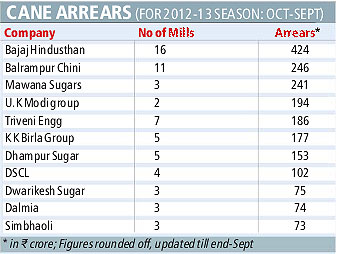 Under this, mills, acting as agents or intermediaries for PSU banks, borrow money on a particular farmer's account to buy inputs such as seeds or fertiliser for the next year's crop but the money is actually paid to a different farmer to clear overdue cane payments.
"It is akin to a ponzi scheme," said the owner of a large sugar company, who did not wish to be identified, but admitted to a practice that has been rife in the organised sugar industry over the last couple of years. If banks refuse to provide loans this season, and mills are unable to raise funds, the ponzi scheme will be exposed with many farmers' land remaining mortgaged with the banks.
The trigger for an impending implosion comes from two factors — one, banks have declined to provide higher working capital loans to the sugar industry this season and two, there is uncertainty over how much of the season's produce will go for crushing.
The arrangement is on the verge of unravelling because a big sugar company has already cried foul and has sounded out not only the banks but also the UP administration and the Union agricultural ministry. Almost all big sugar companies are party to such mortgage arrangements of farmers' land to raise money from PSU banks.
Bajaj Hindustan, the largest sugar company, refused to comment and Balrampur Chini, another big company, denied it. A spokesperson for Balrampur Chini said the company has "never borrowed any money under the said scheme". Sources in Bajaj Hindusthan admitted to private mills' problems being compounded by the fact that banks have declined to provide higher working capital loans to the sugar industry this time around.
In a BSE filing earlier this week, the company said, "Unviable, unaffordable and unreasonable sugarcane price has been continuously fixed over and above the paying capacity of the mills or above a level, which did not give a fair and reasonable return to the mills. This has already caused huge losses to us and has created an unavoidable situation, which is beyond our control to continue to run the operations in losses."
What makes the situation more precarious is that private sugar mills in UP already owe farmers nearly Rs 2,500 crore for the last season, and that is without factoring in any interest on delayed payments.
"Most of the outstanding payments are generally taken care of by fresh loans. This year has been different as the crop is still standing and banks have clamped down on working capital loans. As a result, the payments are still pending," an industry insider said.
The big banks that fund crop loans to the sugar mills include Punjab National Bank, UCO Bank, Bank of India and the Oriental Bank of Commerce. When contacted, UCO Bank chairman Arun Kaul said, "Banks enter into tripartite agreements with mills or sugar companies and farmers. This practice has evolved over time. Mills get committed cane from farmers. Farmers avoid the hassle of dealing with banks with mills acting as intermediaries. Banks deal with one company, which ensures repayment, instead of thousands of farmers."
Kaul said he was unaware that crop loans raised by mortgaging land of one set of farmers is used to repay another set of farmers. "UCO Bank directly credits the farmers accounts," he said but did not rule out some mills indulging in wrong practices. "There needs to be more transparency if instances like these are reported," he said.
The sugar industry association too is also aware of companies acting as intermediaries to facilitate crop loans for farmers. Abinash Verma, director general, Indian Sugar Mills Association, said, most companies are banks' agents and help farmers with crop loans. "If companies are doing this (mortgaging land of one set of farmers and paying dues of another set of farmers) it needs to be investigated."
In UP, over 60 out of the 101 private mills have so far informed the state authorities about suspension of crushing operations in the 2013-14 marketing year (October-September), raising the spectre of default. Among them, listed players like Bajaj Hindusthan, Balrampur Chini, Dwarikesh Sugar and Dhampur Sugar Mills have also communicated their decision to the bourses via regulatory filings. Most of them are waiting for a bailout from the Centre ahead of the upcoming polls as a potential facesaver.