Even as Washington deliberates imposing trade sanctions on India, a move that could impact import of pharmaceutical, gems & jewellery and petroleum products into the US, India's intellectual property (IP) regime and patent laws have got strong support from US-based law professors and non-profit organisations as well as leading MNCs such as Boeing and Honeywell.
According to Matthew Kavanagh of Health GAP (Global Access Project), "India's adoption and one-time use of compulsory licensing and Section 3(d) of the Indian Patents Act are TRIPS-compliant and do not justify elevation of India on the US's 2014 Special 301 Watchlist".
India has been on the US priority watch list since 1974. The "Special 301" report is an annual review conducted by the Office of the United States Trade Representative (USTR), which identifies trade barriers to US companies and products due to "ineffective" IP laws of other countries. The US is expected to take a call on imposing trade sanctions by next month.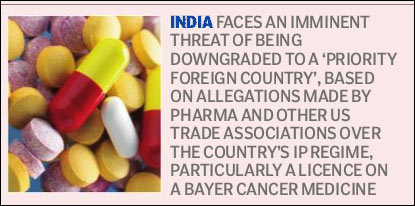 Kavanagh also wrote, in his submission to the USTR, that US President's Emergency Plan for AIDS Relief and US global AIDS programmes are dependent for success on continued, robust Indian generic production of AIDS drugs through continued Indian use of WTO-compliant legal flexibilities. "Listing India on the 301 Watch List would undermine President Obama's declared priority of creating an 'AIDS Free Generation', waste US taxpayer funds, and imperil the PEPFAR programme," he added.
India faces an imminent threat of being downgraded to a 'priority foreign country' by the US, based on allegations made by PhRMA and other American trade associations attacking India's IP regime, particularly its issuance of a compulsory licence on a Bayer cancer medicine and the adoption of section 3(d) to the Indian Amended Patents Act and its Supreme Court decision thereunder denying a patent on a Novartis medicine.
The USTR can impose higher duties or restrictions on import of goods and services into the country for a certain period of time if India is tagged as priority foreign country. With the US accounting for around 12% of India's exports, it will impact the country's trade balance. Under the US Trade Act, a priority foreign country is a tag given to the worst offenders of patent rights and IP protection. The only country on the list, currently, is Ukraine. However, India was designated a priority foreign country in