A U.S.-based law firm said it expects to represent families of more than half of the passengers on board the missing Malaysian Airlines flight in a lawsuit against the carriers and Boeing Co, alleging the plane had crashed due to mechanical failure.
The Beijing-bound flight MH370 disappeared more than two weeks ago, and was announced to have crashed into the remote southern Indian ocean with all 239 on board presumed to have died.
Chicago-based Ribbeck Law has filed a petition for discovery against Boeing Co, manufacturer of the aircraft, and Malaysian Airlines, operator of the plane in a Cook County, Illinois Circuit Court. The petition is meant to secure evidence of possible design and manufacturing defects that may have contributed to the disaster, the law firm said.
Also Read: * Live: Malaysia Airlines MH370 jet finally 'found', 122 objects sighted in remote Indian Ocean
Though both Boeing and Malaysian Airlines were named in the filing, the focus of the case will be on Boeing, Ribbeck's lawyers told reporters, as they believe that the incident was caused by mechanical failure.
"Our theory of the case is that there was a failure of the equipment in the cockpit that may have caused a fire that rendered the crew unconscious, or perhaps because of the defects in the fuselage which had been reported before there was some loss in the cabin pressure that also made the pilot and co-pilot unconscious," Monica Kelly, head of Global Aviation Litigation at Ribbeck Law, told reporters.
"That plane was actually a ghost plane for several hours until it ran out of fuel."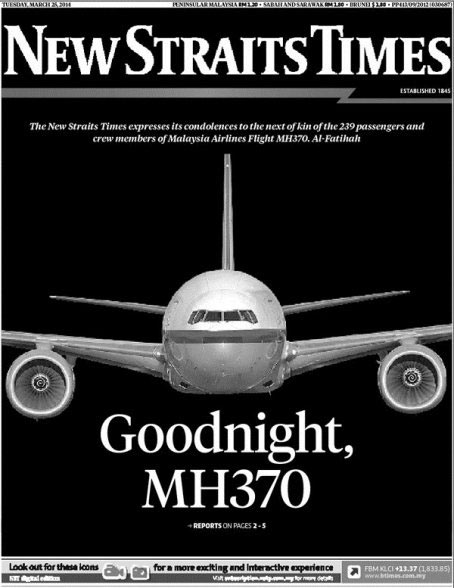 The New Straits Times' darkened front page showed an aircraft above the words "Goodnight, MH370" -- a reference to the last message from the cockpit, "All right, good night", before the Malaysia Airlines jet lost contact on March 8.
Also read: Malaysia Airlines Flight MH370
Kelly said the conclusion was made based on experience on previous incidents, dismissing the possibilities of hijacking or pilot suicide.
The lawsuit, soon to be filed, would seek millions of dollars of compensation for each passenger and ask Boeing to repair its entire 777 fleet.
The law firm said it expected to represent families of more than 50 percent of the passengers on board the flight, but declined to give details on how many families have sought their representation in the case.
The court filing