The Indian Express explores VGTM, the 7,000-sq-km region within which the state government plans to set up its capital:
THE TUSSLE
The TDP government is bent on having the Andhra Pradesh capital in a region known as VGTM (Vijayawada-Guntur-Tenali-Mangalagiri). The cabinet has cleared a decision to set it up between Vijayawada and Guntur, with Nuzvedu as an option, although a central committee under former urban development secretary K Sivaramakrishnan has opposed that stretch. The central panel has recommended three other options — Vizag region in north Andhra, Rayalaseema 'arc' comprising Kurnool, Anantapur, Tirupathi, Kadapa and Chittoor, and land along the proposed Kalahasti-Nadikudi railway line.
7,068 sq km
Size of VGTM, which is almost as large as Hyderabad Metropolitan Development Authority's jurisdiction of 7,257 sq km. VGTM Urban Development Authority includes the corporations of Vijayawada and Guntur, the municipalities of Mangalagiri, Tenali, Gudivada, Nuzvedu, Ponnur, Sattenapalli and Tadepalli in Krishna and Guntur districts, the nagar panchayats of Nandigama and Vayyuru, and 800 gram panchayats.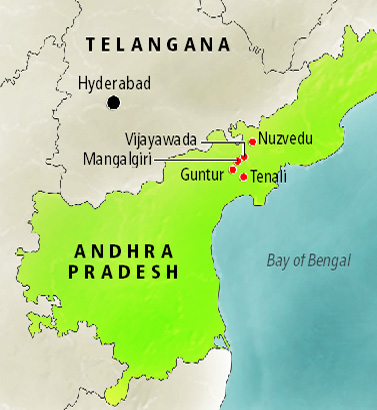 The VGTM (Vijayawada-Guntur-Tenali-Mangalagiri) region.
KEY SITES
* Vijayawada
In the heart of Coastal andhra, it is the most developed city after Vizag, an educational hub — it includes Dr NTR University of Health Sciences, and School of Planning and Architecture, and will get a National Institute of Design campus — as well a vital transportation link for all of Seemandhra with its BRTS and railway station, the most important junction in South Central Railway's network. But it lacks the space for setting up a new capital township, and has little scope for expansion due to the river Krishna flowing through the city, and low hills surrounding it. Besides, agricultural land prices are high.
* Mangalgiri
17 km from Vijayawada, 24 km from Guntur city. Located on NH-5 (Chennai-Jharpokaria, Orissa), which is part of the Golden Quadrilateral along the east coast connecting Chennai and Kolkata, Mangalgiri has developed as a satellite town of Vijayawada. It is known for pure cotton Mangalagiri sarees and fabrics, Acharya Nagarjuna University, NRI Academy of Medical Sciences, and Koneru Lakshmaiah University; an international cricket stadium is under construction. The government is eyeing 1,198 acres of degraded forest land as well as 300 acres government land near Acharya Nagarjuna University.
* Nuzvedu
45 km from Vijayawada. Nuzvedu, also known as Nuzvid, in Krishna district, is a small town and municipality with an estimated population of 70,000. It is an educational hub for the neighbourhood