Diversified group Videocon Industries has secured an around $2.196-billion, 14.25-year standby letter of credit facility from 12 Indian banks, according to sources. SBI Capital Markets and IDBI Bank were joint bookrunners for the SBLC, which would secure offshore financings for the group's capital expenditure for its oil and gas businesses in Mozambique, Brazil and Indonesia.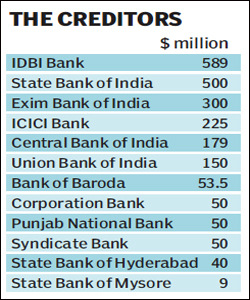 The 12 participating banks are: IDBI Bank ($589 million), State Bank of India ($500 million), Export-Import Bank of India ($300 million), ICICI Bank ($225 million), Central Bank of India ($179 million), Union Bank of India ($150 million), Bank of Baroda ($53.5 million), Corporation Bank ($50 million), Punjab National Bank ($50 million), Syndicate Bank ($50 million), State Bank of Hyderabad ($40 million) and State Bank of Mysore ($9 million).
The SBLC facility is borrowed by Videocon Industries and wholly-owned subsidiary Videocon Oil Ventures, on an 'obligor-co-obligor' structure, according to a source.
The offshore borrowing entity would be Cayman Islands-registered Videocon Hydrocarbon Holdings, an overseas subsidiary of Videocon. The SBLC facility was signed on September 27 and matures in 2026. Videocon is a diversified business with interests ranging from consumer electronics to oil and gas.