After rising 248 points in early trade, the BSE Sensex today surrendered all gains to close 72 points down at a fresh 1-week low on heavy selling after rating agency S&P's warning that India could be downgraded if the next government fails to reverse slide in economic growth.
A weak Indian rupee and tepid global cues ahead of US GDP growth data and European Central Bank's rate decision, also affected the domestic market sentiment.
Shares of Realty, Consumer Durable, Banking, Power, PSU, Capital Goods and Auto fell while IT and metal rose.
The BSE Sensex opened higher and moved up to a day's high of 21,142.85 on initial buying on the back of capital inflows.
However, it declined afterwards to 20,797.06 before ending at 20,822.77, registering a loss of 72.17 points, or 0.35 per cent, as soon as news of S&P ratings filtered in. This is Sensex's lowest closing after 20,570.28 on October 28.
The S&P, which affirmed the rating on India at 'BBB-/A-3' and retained negative outlook, triggered a wave of selling in the last 2 hours as investors were spooked by downgrade fears.
"Markets showed signs of panic selling in the afternoon. While the rating agency affirmed the current rating, it warned of a likely downgrade in 2014 if the new government fails to reverse India's low growth," said Milan Bavishi, Head Research, Inventure Growth and Securities.
India, which grew by over 9 per cent for three years before the 2008 global financial crisis, is facing slowdown.
The growth rate fell to a decade low of 5 per cent in 2012-13.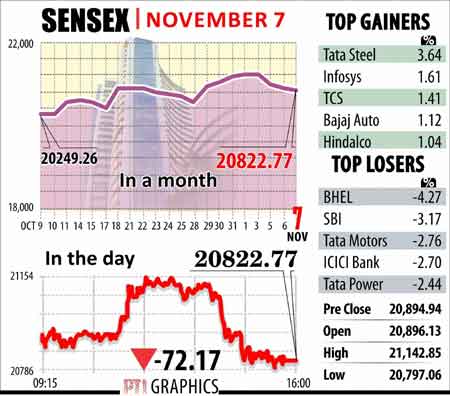 The BSE Sensex has now lost over 417 points in the past three days in stark contrast to the jubiliant mood after the index closed at all-time high of 21,239.36.on Sunday.
Similarly, NSE index Nifty fell by 27.90 points to end at 6,187.25. Also, SX40 index of MCX-SX fell by 23.07 points.
Multi Commodity Exchange of India Ltd
Among the 30 BSE Sensex constituents, 17 stocks fell led by RIL, State Bank of India (SBI), ICICI Bank, BHEL, Bharti Airtel and Tata Motors.
Traders said investors booked profits in the intra-day up move. However, TCS, Infosys, ITC, HUL and Sun Pharma gained.
The Indian rupee also fell to