Last weekend I met a software company honcho at a tony restaurant in Cyber Hub, Gurgaon, where our discussion centred around luxury cars. "I believe the German brands—Mercedes-Benz, BMW and Audi—are the finest," he said. When I told him about the cars made by Jaguar Land Rover and Volvo, the man, the owner of a BMW 5 Series, said, "My first choice would still be either of the Germans." Giving me lessons on brand-building, he added, "The three Germans may be rivals, but they are often seen together; look at the side-by-side displays they had at the Auto Expo." Later, I took him to the parking lot and showed him the Volvo S80 that I had for review. "Impressive, but this car has to be really special for me to consider buying." Ah, the power of branding!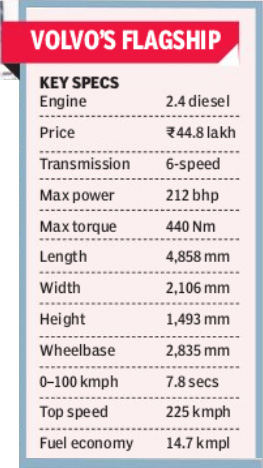 The S80 is Volvo's flagship in India and recently the new generation S80 was showcased at the company's lounge at Delhi airport's Terminal 3. By displaying its cars at premium locations in India, Volvo is taking all the required steps as far as brand-building is concerned. Today, we find out how good its top brand is.
Exterior
Most new Volvo cars are attractive, but the S80 adds an aura to that attractiveness. First, the car, which is 4,858 mm long and 2,106 mm wide, has a massive road presence. Add to that the LED daytime running lights and a wider grille, and it ensures the S80 gets second glances—it is not any usual luxury car. At the rear, the new integrated dual tailpipes look dapper. There is chromium finish in the front spoiler and grille, and around the windows. There is chrome moulding on rear bumper, trunk lid and lower side, and chrome trim below the rear lamps. Overall, the new S80 balances prominence and style.
Interior

Similar to what you get in the V40 Cross Country, the S80's digital thin film transistor (TFT) instrument cluster now comes with three modes—Elegance (amber colour), Eco (green colour) and Performance (red colour). The steering wheel is equipped with paddle shifters, these turn the automatic gearbox into a manual one with the benefit of gear shifting with both hands on the wheel. The paddle shifters also bring out the enthusiastic driver in you, especially on twisty roads. The wood finish