A rise in IT stocks, on their better-than-expected results, has helped prop up Sensex. But don't expect an overall jump in earnings of India Inc just yet
As on Thursday, only 28 companies out of the BSE 500 companies had announced their results for the quarter ended September 2013. Their overall performance shows a healthy growth both in revenues and profit. The aggregate net sales of the 28 companies for the quarter rose by 15.9 per cent over the same quarter last year and profits rose by 16.8 per cent, indicating a strong performance by India Inc, but market experts say that it is just an early trend and since there has been no broadbased recovery in the economy, the trend may not remain the same as more companies come forward to announce their results for the quarter.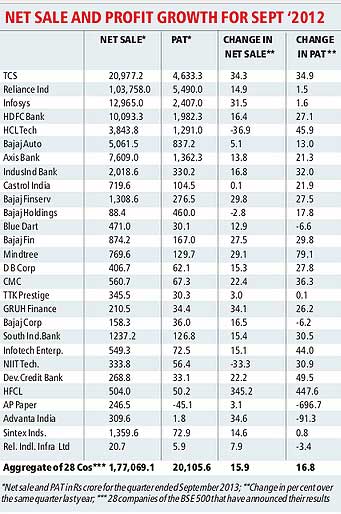 A closer look at the list of the 28 companies that have announced their result shows that there are six IT companies whose aggregate revenues rose by 19 per cent and profits by 25 per cent on a year-on-year basis. This was primarily driven by volume growth that the Indian IT industry saw with revival of growth in the US economy and was also pushed by a sharp depreciation in rupee during the quarter.
Also, since profits announced by the six IT companies amounting to Rs 8,589 crore account for 42 per cent of the total profits of 20,105.6 crore shown by the 28 companies, a strong performance from the IT sector has polarised the aggregate performance as of now.
"There is no broadbased recovery and the overall growth in earnings is polarised because of better-than-expected performance by IT companies. Not only have top IT companies delivered but even tier II companies have shown good numbers," said Pankaj Pandey, head of research at ICICIdirect.
If we remove the six IT companies from the list, the net sales growth still stands tall at 15 per cent but there is a sharp dip in the aggregate profit growth from 16.8 per cent to 11.1 per cent.
The Results so far
Other than IT majors such as TCS and Infosys, there have been other major companies that have announced their results for the quarter. Reliance Industries announced its revenue at over Rs 1,00,000 crore witnessing a year-on-year growth of 14.9 per cent for the quarter. Banking majors such as HDFC Bank and Axis Bank too