Almost 45 years after the fourth Lok Sabha in 1969 passed the Lokpal Bill which lapsed after it wasn't passed by the Rajya Sabha — the country is all set to get an anti-corruption ombudsman, with the Rajya Sabha (RS) passing the amended Lokpal and Lokayuktas Bill on Tuesday.
The amendments will be introduced in the Lok Sabha on Wednesday. Once passed in that House too, it would pave the way for setting up the anti-corruption ombudsman.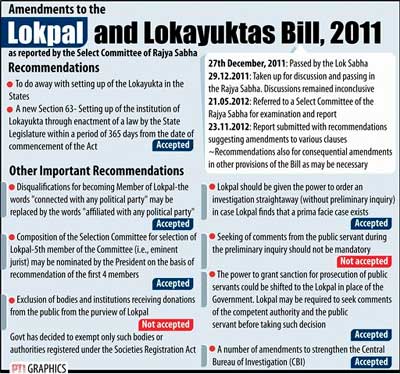 Incidentally, almost all the amendments that the government agreed to on Tuesday are those which the BJP was insisting on two years back when lack of consensus stopped the Bill from being passed in the RS.
The Samajwadi Party, a strong opponent to the creation of Lokpal, boycotted the House proceedings after staging a walkout soon after it took up the Bill for consideration.
Among the major amendments passed by the RS are:
#Delinking of the mandatory creation of Lokayuktas by the state governments, a contentious clause that had come in the way of the passage of the Bill in December 2011.
#A clause stating that CBI officials investigating a case referred to the agency by the Lokpal would not be transferred without the approval of the ombudsman.
# Selection process of the Lokpal has been changed, with the task being left to a committee comprising the Prime Minister, Lok Sabha Speaker, Leader of Opposition in Lok Sabha and Chief Justice of India, besides an eminent jurist appointed by the President on their recommendation.
# The office of Prime Minister would be under the purview of the Lokpal, though with certain safeguards.
In order to get the Bill passed, the government accepted all but three recommendations of the select committee which had recommended major changes in the proposed law. The government did not accept a recommendation which said that an accused public servant should not be given any chance to present his or her view before initiation of investigation. Despite the BJP's opposition, the government also had its way on the issue of "not less than 50 per cent of the members of Lokpal" being drawn from among SC, ST, OBC, minorities and women.
Barring voting on an amendment proposed by the Left MPs, aimed at bringing public-private partnership (PPP) projects also under the jurisdiction of the Lokpal, all other amendments were cleared through voice vote. The Left