The Credit Suisse Research Institute on Wednesday released its fourth annual Global Wealth Report 2013, which found wealth in India rose by 7.4% to $3.6 trillion in mid-2013. "As the world's largest democracy with a strong federal structure and vibrant markets, India has seen rapid growth in wealth since the year 2000," the report said.
According to the Credit Suisse Global Wealth Report 2013, after North America (11.9 per cent) and Europe (7.7 per cent) India has witnessed the highest rise in household wealth.
Globally, household wealth increased by 4.9 per cent to over USD 240 trillion, Credit Suisse said adding that the US accounted for 72 per cent of the increase.
While wealth per adult rose at an average annual rate of 8% from $2,036 in 2000 to $4,700 in 2013, just 0.4% of the Indian population has net worth over $100,000.
Meanwhile, the average wealth per adult globally reached a new all time high of USD 51,600.
The report also found that like most countries in the developing world, personal wealth in India is heavily skewed towards property and other real assets, which make up 86% of household assets.
While wealth has been rising strongly in India, and the ranks of the middle class and wealthy have been growing, there is still a great deal of poverty. This is reflected in the fact that 94% of the adult population has wealth below $10,000, it stated.
At the other end of the scale, just about 0.4% of the population has net worth over $100,000. But due to India's large population, this translates into 2.8 million people.
India also has 254,000 members of the top 1% of global wealth holders, which equates to a 0.5% share. In total, there are 1,760 ultra high net worth individuals with wealth over $50 million and 770 more than $100 million.
According to the Credit Suisse report, the number of millionaires in India is expected to rise from 182,000 in 2013 to 302,000 by 2018 and wealth per adult in India is expected to rise at a CAGR of 9.3% to $6,600 by 2018.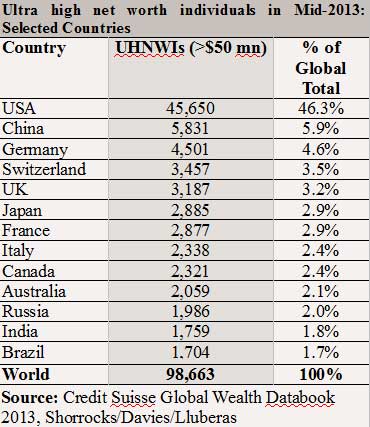 "Our fourth edition of the Global Wealth Report reconfirms again that Asia Pacific, which accounts for 31% of global household wealth and 61% of the world's middle class of emerging consumers, remains the key growth engine of the world economy and