One of the world's most popular messaging applications, WhatsApp, released a major update for iPhone users on Tuesday.
The new version is in sync with the Apple's new iOS 7 operating system, which has a "flat" design. App developers have been working overtime to ensure their services retain a native feel in the new OS, as witnessed by major updates for Evernote, Cooliris, Flipboard, etc.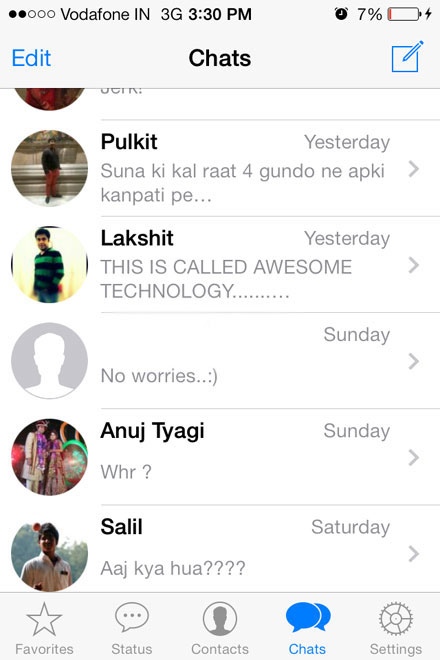 Apart from the new look, this version adds broadcast lists. Users can now create lists of contacts for bulk messaging. Other noteworthy improvements include support for iOS 7 ringtones, text size, easier way to manage blocked contacts and the ability to crop images before sending. Users will also notice improved location sharing, support for 3D maps and larger image thumbnails in chats.
After users update to the new version of WhatsApp, it now prompts them to setup iCloud backup. Users can select whether they want to backup their chats on Apple's cloud storage service. In case you change your phone or restore your iPhone, you can restore all your chats easily.
WhatsApp CEO Jan Koum recently tweeted (https://twitter.com/jankoum/status/394259718606053376) that users send over 400 million photos through the app every day. In June, WhatsApp had tweeted that it handled a record 27 billion billion messages in 24 hours (https://twitter.com/whatsapp/status/344966710241161216).