Bollywood megastar Amitabh Bachchan, who has begun shooting for 'Bhootnath 2' yesterday, met up with fellow actors Salman Khan and Tabu.
Big B came to know that Salman Khan and Tabu were shooting for their new film in the adjoining sets, that's when the megastar dropped in on their sets and met the two actors.
Amitabh Bachchan has worked with Salman Khan in films like 'Baghbaan' and 'Baabul'. While Tabu was his leading lady in R Balki's hit film 'Cheeni Kum'.
Amitabh Bachchan, tweeted a few photos from the sets and wrote:
"Met the lovely Tabu and Salman shooting on next floor ... always a joy to be with colleagues .."
Amitabh Bachchan also enquired about Salman Khan's nerve disorder. Salman Khan had undergone a surgery for the nerve disorder, Trigeminal Neuralgia in August 2011.
"Salman shooting on next floor .. meet up and enquire of his nerve ailment ... he is improving !!," Amitabh Bachchan further tweeted.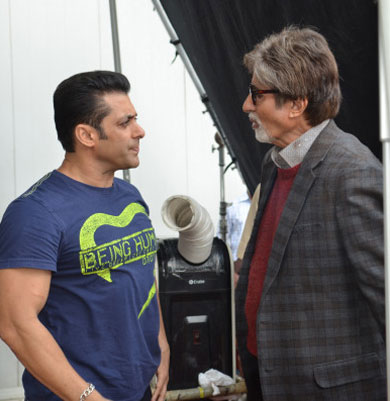 Salman's nerve problem had once again aggravated this year and the actor went in for treatment too.
According to reports, it was due to his nerve problem that the actor was unable to release any film this year on Eid.
"Chatting with Salman about his nerve problem .. he says he is recovering fast .. good !!
Talking about his meeting with Tabu, Big B wrote: "With the lovely Tabu on the sets, shooting next door with Salman .. such a warm hearted loveable friend .."