Unlike previous years, television channels and movie production houses this year are launching new programmes and films like 2 States, Ek hasina Thi and waiting in wings is the much-anticipated, Rajinikanth's Kochadaiiyaan, in the midst of the Indian Premier League (IPL 7) season confident that they have a loyal audience for their shows
It's the Indian Premier League (IPL) season and as the Twenty20 tournament dominates television screens courtesy Sony Max and Sony Six, it's time for all other entertainment options to scurry for cover. Or so, many would like to believe. But unlike previous years when the fear of the IPL would lead rival television channels and even the film industry to go slow on new content, quite a few broadcasters and motion picture producers this time have decided to take the bull by the horns. Television and movies are the two most dominant slices of India's R91,700-crore media and entertainment industry. Together, they contribute around R50,000 crore to the country's economy. And this time they are ready with their ammunition.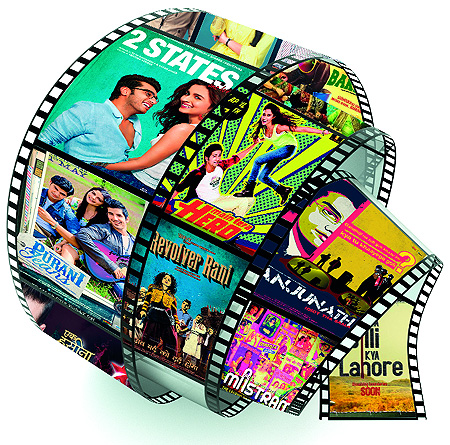 Among the Hindi general entertainment channels (GECs), Star Plus launched a new show—Ek Hasina Thi—on April 14 while Zee TV launched Kumkum Bhagya on April 15 at 9 pm, replacing its long-running serial Pavitra Rishta, which was moved to the 6.30 pm slot. ETV Bangla, a Bengali GEC, launched an 'original afternoon' band on April 15 under the banner 'Duronto Dupur' with fresh new shows including a remake of Colors' Balika Badhu, a story based on Bankim Chandra Chatterjee's Durgeshnandini and a game-based non-fiction property.
Additionally, Reliance Broadcast Networks' (RBNL) regional Hindi GEC Big Magic has launched Har Mushkil ka Hal—Akbar Birbal from April 28 (at 9 pm slot), bang in the middle of the IPL. Bollywood is going a step further with as many as 20 movies being released during the IPL season this year. The highpoint will be the release of the R125-crore Rajinikanth-starrer Kochadaiiyaan on May 9 right in the middle of the IPL.
"During the initial seasons, the IPL had a big impact on the television business. But, now that the game has been around for the past so many years, television has learnt to carve out a niche for itself. Both of them have their own significant sets of audiences," says R S Suriyanarayan, associate vice-president, Initiative.
Interestingly, television entertainment genres such as food and music, which do