The Indian rupee wiped out initial losses and made a smart recovery on Wednesday, rising 56 paise to 67.07 against the dollar after the Reserve Bank of India (RBI) was said to have stepped in to lift the local currency from near record lows.
While a weakening US dollar overseas ahead of weekly supply data from the US aided the rupee's rise, capital outflows restricted the gains, a forex dealer said.
Raghuram Rajan takes over as 23rd Governor of Reserve Bank of India
The recovery in the Indian rupee, the worst-performing currency in Asia this year, came as Raghuram Rajan took over as Governor of the RBI, which is battling high inflation, low growth and a burgeoning current account deficit.
New RBI Governor Raghuram Rajan: Quotes
The Indian rupee started on a bearish note at 68.10 to a dollar from the previous close of 67.63 and dipped to a low of 68.62 at the interbank foreign exchange market due to dollar demand from importers. The currency had touched a lifetime low of 68.85 on August 28.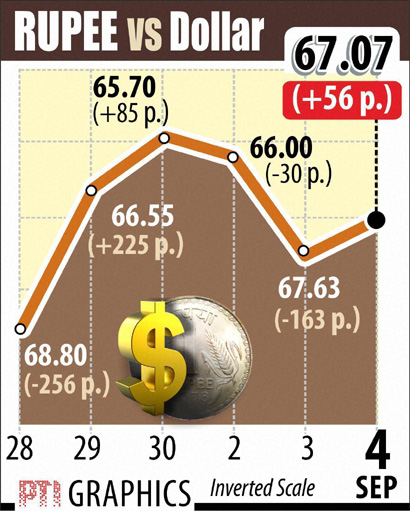 The Reserve Bank of India (RBI) was said to have intervened at this stage through state-run banks, leading the rupee to bounce back to a high of 66.80 before ending at 67.07, a rise of 56 paise or 0.83 per cent. Yesterday, the rupee had slumped 163 paise or 2.47 per cent.
"The Indian central bank aggressively sold dollars in the spot market to prevent the currency from falling to a record low," said Pramit Brahmbhatt, CEO of Alpari Financial Services (India). "The trading range for the spot USD-INR pair is expected to be within 66.20 to 67.80."
The RBI today eased external commercial borrowing norms to allow companies to use overseas loans for general corporate purposes. It also clarified that the August 14 curbs were not intended to restrict bona fide overseas investments.
The benchmark S&P BSE Sensex today shot up 332.89 points or 1.83 per cent. Foreign institutional investors sold shares a net Rs 716.16 crore of shares yesterday, as per provisional data with the stock exchanges.
Forward dollar premiums dropped further on continued receipts by exporters.
The benchmark six-month forward dollar premium payable in February declined to 250-255 paise from Tuesday's close of 256-263 paise. Far-forward contracts maturing in August dipped to 447-452 paise from 460-470 paise.
The RBI fixed the reference rate for the dollar at 67.0289 and for the euro at