The Pension Fund Regulatory and Development Authority (PFRDA)-regulated New Pension System (NPS) has roped in about 400 companies since December 2011, thanks to the 10-15% annual returns and tax breaks the scheme enjoys.
The growing corporate enrollment along with rising contribution from government employees have helped the NPS to grow its corpus to close to Rs 28,000 crore by February 2013, a PFRDA official told FE. The NPS corpus has grown 77% year-on-year to R15,163 crore in 2011-12 and 83% in 2010-11. The NPS was initiated in 2004, initially enrolling new central government employees, and subsequently rolled out to employees in 24 states, PSUs, corporates and even the unorganised sector.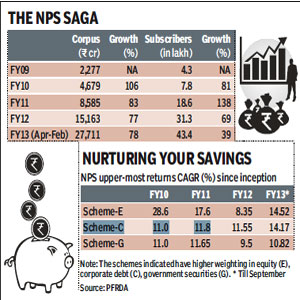 Though it is mandatory for employees with a basic monthly salary of up to R6,500 to sign up for the Employees Provident Fund Organisation (EPFO), corporates are increasingly offering recruits and existing staff an option to invest in the NPS.
"About 400 corporates have enrolled with 1.29 lakh subscribers against the 43.39 lakh subscribers under the NPS as a whole. The asset under management (AUM) under the corporate sector is Rs 986.50 crore against the total AUM of Rs 27,711 crore as of February 9, 2013," the PFRDA official said.
Some of the employees, who are already part of the EPFO, are parking excess savings in NPS going by the higher returns and tax breaks.
As against EPFO's interest of 8.25% in 2011-12 and a likely 8.5% for this year, PFRDA sources said, the NPS has provided 14.52% return on the equity oriented E-scheme, 14.17% under the corporate bonds C-scheme and 10.82% for government debt heavy G-scheme in the last one year.
More then the annual return, NPS is becoming a preferred choice for the tax incentives. A subscriber's contribution to NPS tier-I up to 10% of the salary (basic plus dearness allowance) is tax exempt under Sec 80CCD (i) with a ceiling of R1 lakh. Besides, the employers' contribution of up to 10% of the salary is also tax exempt in the hands of the employee under Section 80 CCD (ii) of Income Tax Act. "By contributing to the NPS, the employer can provide an additional tax benefit to the employee by simply reorganising the salary structure without incurring any additional cost to the company (CTC)," an official said.
Even in terms of fund management charges, NPS comes cheaper than EPFO. The investment cost of NPS is capped at 0.25% for the