Pharmaceutical company Wockhardt's troubles with the US Food and Drug Administration (USFDA) with respect to the quality of its manufacturing processes across its facilities don't appear to end.
In the latest in a series of adverse observations against Wockhardt's manufacturing standards, the US regulator has identified deficiencies in quality, hygiene and personnel training standards at Wockhardt's Morton Grove manufacturing unit at Illinois in the US. The concerns raised by the USFDA are similar to those found at its facilities in India in the past.
The Mount Grove unit is a key facility for Wockhardt as it is its sole manufacturing site in the US and production from here accounts for around half of the drugmaker's US revenues. Wockhardt's sales in the US market contributed 45% to its overall turnover in 2013-14, or R2,173.5 crore.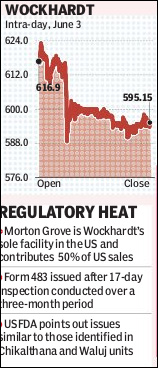 The USFDA issued a Form 483, dated March 26, addressed to Sivakumar Chinniah, vice-president of operations and supply chain management in Morton Grove Pharmaceuticals, a subsidiary of Wockhardt. Form 483 is issued at the end of a USFDA inspection of a production facility and contains the resultant observations. If the company fails to resolve the issues raised in this form to the satisfaction of the USFDA, either a warning letter or an import alert against the manufacturing unit may be issued. In case of an import alert, the products of that facility cannot be sold in the US.
The Form 483 lists 12 observations in all, following an inspection that was conducted over a period of 17 days in the January-March quarter. The report notes that Morton Grove's quality control division is not fully monitoring the systems designed to assure the safety and standard of products manufactured there.
USFDA inspector Brian Nicholson wrote that similar discrepancies were noted in two warning letters issued in 2013 to the Mumbai-based company's Waluj and Chikalthana facilities in Maharashtra.
"The quality control unit lacks authority to review production records to assure that no errors have occurred and fully investigate errors that have occurred," Nicholson wrote, adding that data are not tracked in a manner that would alert the firm of quality problems.
The investigator cited an example of a steroidal nasal spray that had 194 complaints in a 12-month period for "spraying complications", whose root cause remained unidentified, yet the company closed the complaints.
The US regulator also said the manufacturing units were not maintained in a clean and