After hitting a record low of 68.85 to the dollar last week, there are signs that the beleaguered rupee may have entered a period of relative calm. Technical analysis certainly suggests so.
Raghuram Rajan's debut on Wednesday as the new Reserve Bank of India (RBI) governor was well-received and he immediately unveiled a slew of proposals to support the rupee.
This has raised hopes that the RBI will now adopt a new approach to defending the rupee, as the extent to which it's defence strategy has worked so far is hotly debated.
Related: Guv Rajan launches financial reforms 2.0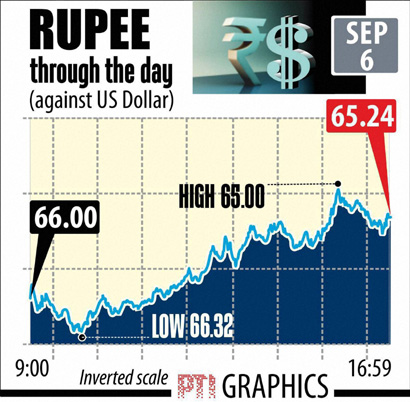 While the RBI has been intervening heavily in both spot and forward markets to support the currency, especially when it nears its record lows, there are technical signs that the rupee is set for some near-term consolidation.
The Fibonacci Retracement, a widely used technical tool that charts and predicts patterns in currency movements, signals an eventual move for the rupee to as high as 63 levels from current 66 levels.
Meanwhile, the number of open contracts in domestic rupee futures has slumped this month, which is a sign that traders are removing their short positions in the currency.
"The rupee is still in a precarious position but it has been sold off a lot and that means further currency weakness will be capped," Barclays strategist Hamish Pepper said.
Fundamentally, Pepper said the rupee was undervalued 21 per cent against the dollar, among the biggest gaps among emerging market currencies.
In his first day as governor, Rajan unexpectedly announced several measures to support the rupee and open up markets, providing a shot of confidence for investors unnerved by the country's worst economic crisis in two decades.
The rupee surged 1.6 per cent on Thursday, its biggest gain in a week, and rose a further 0.8 per cent to 65.5 on Friday.
It is now facing a short-term target of 65.56 to 65.26 and a medium-term target of 63.05-15, according to the Fibonacci retracement.
Charts also show the rupee experienced a gap between the close of Friday, August 16 and the open the following Monday of 62.35. That gap has yet to be filled, indicating the rupee could eventually close it by falling to 62.03/22.
Although some traders are bracing for currency volatility ahead of the U.S. monthly employment data due later in the day, traders