Teeny-bopper 'Yaariyan' box office collections, with newcomers in the lead, seems to have an edge over the mature love story starring Madhuri Dixit's 'Dedh Ishqiya'.
Dedh Ishqiya was a sequel to a successful film, with a good start cast. But the film's content cost it dearly. After a not so great start on Friday with box office collections of Rs 3.60 crore, the film collected Rs 4.25 crore on Saturday and Rs 5.75 crore on Sunday. "The overall box office collections of Dedh Ishqiya for the first weekend was Rs 13.60 crore," said distributor Sunny Khanna.
Yaariyan, according to Khanna, was the dark horse that did fantastic business at the box-office on the opening day. "However the collections dipped by 10 per cent on the second day, but that was expected, as the film had limited appreciation and collected only Rs 5 crore net on Saturday, after earning Rs 5.50 cr nett plus on Friday. The film earned Rs 5.75 crore nett on Sunday, taking the weekend total to Rs 16.25 crore nett. "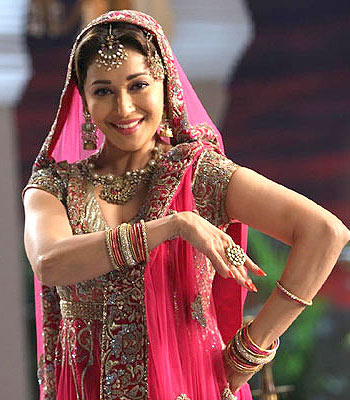 Exhibitor Akshaye Rathi said, "Although, Yaariyan opened with a bang, because of its fabulous music and marketing efforts, Dedh Ishqiya grew by the day on pure merit. As I see it, both the film's may end up in the same range at the domestic box-office, but Yaariyan has the advantage of being picked up easily for satellite rights, a fact that has been exploited well by T-Series."
Produced by T-Series, Yaariyan is helmed by debutante director, Divya Kumar Khosla and stars debutants Himansh Kohli, Rakul Preet Singh, Nicole Faria, Shreyas Pardiwalla and Devanshu Sharma while Dedh Ishqiya has veterans like Nasseruddin Shah, Maduri Dixit Nene, Arshad Warsi and Huma Qureshi's poetic drama unfolding on the screen.
The music of Yaariyan too, played a very important role in pulling the audience, with two songs of Yo Yo Honey Singh trending the charts. Trade analyst Komal Nahta says, "Yaariyan has done good business as the music became very popular amongst the youth. Though Dedh Ishqiya received good reviews, it did not translate into numbers at the box-office."
The spoken word
The language determined the fate of the films. While Yaariyan could relate to the youth, Dedh Ishqiya's tenor could not strike a chord with the audience. With the actors talking in chaste Urdu, the makers had to put sub-titles for the audience