If you see a flood of entertainment apps in the near future, you can blame it on India's insatiable appetite for Bollywood and all things related. In fact, a study released on Friday by Yahoo and Mindshare says Indians put entertainment on top, even above the core functionality of communication, in smartphones.
The study, 'Getting Mobile Right', suggests that marketers need to get on top of India's peculiar mobile usage patterns before planning a digital strategy for India. "Given the mobile growth in India, the potential for brands to engage with their audiences via smart devices is tremendous. But to unlock this, marketers need to think beyond mobile as a reach extender," said David Jeffs, Head of Insights, India & South-East Asia, Yahoo.
The study was conducted in Hong Kong, one of the most mature smartphone markets, China which is one of the largest, Indonesia, which has the largest number of BlackBerry users, and India, the emerging smartphone destination.
The TNS Mobile Life 2013 survey estimates that India has over 57 million smartphone owners and 3.8 million tablet owners. The number is predicted to grow to 163 million smartphone users and 10.8 million tablet users by 2017 according to conservative estimates. While $444 million is spent on digital marketing in India, mobile marketing is just about a tenth of this at $44 million at the moment.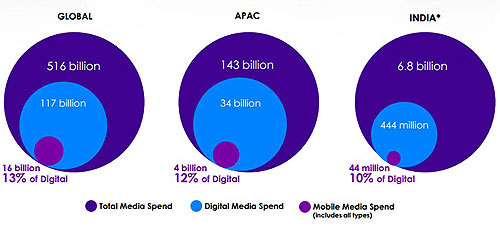 Deepika Nikhilender, Leader, Business Planning, Mindshare Asia Pacific said marketers need to prepare for their brands to harness the opportunity presented by the growth in smart device penetration India. "Mobile's role in the path to purchase and at the retail environment is becoming very critical, and marketers need to adapt to this insight and find opportune interventions for brands on this platform," she said.
The study showed that smartphone users are avid consumers of news with political and tech news among top preferences, a behaviour unique to India. Indians also tend to consume more content genres than their peers in other countries. In fact, they use their devices far more effectively than a mature market like Hong Kong.
Since most Indians still don't find it secure enough to use a mobile device to shop online, a lot of them use their devices to research for products before buying in physical stores. Pre-purchase research is most for apparel (80 per cent) and (77 per cent) for gadgets. Incidentally, unlike the rest of the world, 80 per cent of Indians intentionally click on mobile ads.
The study was based on face-to-face interactions with 500 smartphone and 100 tablet users in three Indian cities.