Bank stocks surged on Wednesday after the Reserve Bank of India (RBI) eased infrastructure lending and housing loan norms, which analysts say would benefit banks, but could be detrimental to the profitability of non-banking financial institutions (NBFCs) and housing financiers due to the increased competition.
Japanese financial services and investment banking firm Nomura said no SLR/CRR on mortgages makes banks more competent vis-a-vis HFCs in mortgages. Currently, the difference between the bank base rate and mortgages is just 0-25 bps and, hence, "banks likely will not be able to undercut by >25bps, but this should ensure high competitive intensity in other forms like higher LTVs, etc", the firm added
The central bank on Tuesday said long-term bonds for infrastructure funding and affordable housing would be exempt from CRR, SLR and priority sector lending requirements. Further, the RBI granted infrastructure status to affordable housing.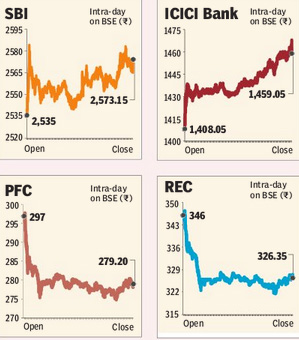 The BSE Bankex ended 2.5% or 426.10 points higher at 17,479.92 points, outperforming the benchmark Sensex, which ended 1.3%, or 321.07 points, higher at 25,549.72. Among banking stocks, ICICI Bank (4.7%), SBI (2.3%), Axis Bank (3.6%) and HDFC Bank (1.1%) were the major gainers.
On the other hand, shares of certain NBFCs and housing financiers declined on the likely impact.
Shares of REC and PFC declined 5% and 5.7%, respectively. Shares of housing financiers HDFC and LIC Housing Finance ended 0.1% and 4% lower, respectively. "This move is likely to be negative for infra financiers like REC/PFC, as incremental lending rates to infra projects could decline," Nomura analysts said.