have to strain to get the focus right. When you have multiple subjects it is quite easy to shift from the one in the foreground to background. This should make the 1200D an easy camera to learn with for first timers.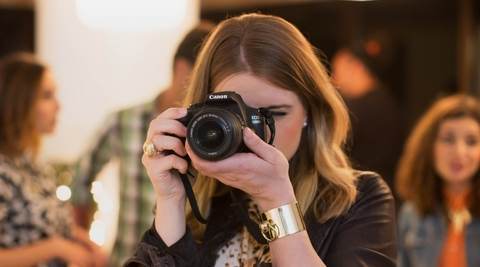 TEST IMAGES: INTERACTIVE IMAGE BELOW
As far as first timers go, I think the Creative Auto mode in the camera can really help them move from being addicted to full auto to finding the versatility and fun of manual. This mode lets you do minor adjustments even as the camera does the rest. The interface is intuitive and easy to tweak in all modes.
I also used the camera while covering the Computex, Asia's largest tech fair. I used it to photograph senior industry leaders I was meeting and could get great shots in the first attempt itself. At the Intel keynote, I was seated a dozen rows away from the stage, but the EF-S 55-250mm lens that comes in the kit was good enough to get me good pictures of Intel President Renee James as well as some of the cutting edge products she had on stage.
Even during the visit to main exhibition all, which is a riot of colour and glamour along with being a showcase of the new tech trends for the coming months, the low-light capabilities of the 18 megapixel APS-C size CMOS sensor shone through. I could use the zoom again to get detailed pictures of the devices. The colour reproduction of the camera is very impressive, while the background defocus gives a profession tinge to even the most mundane of pictures.
The only thing that I was not happy with was the full auto mode where some pictures with the flash appeared a bit burned out or too bright.
Verdict
If you are looking to buy your first DSLR, this is certainly among the best option in India right now. I recommend the camera not just because of its ease of use and superb results, but also because its two-lens kit makes it a good value for money buy. Both Flipkart and Amazon are offering this package at around Rs 31,000, making it the ideal starter kit for amateurs and families.