The new uncertainty: India's one near-given was falling interest rates and inflation; with RBI's currency defence, that has fallen. India is now swamped with uncertainty–monetary/currency policy, economic/investment revival, earnings, flows and elections. That is smashing the market currently, but more fundamentally it pushes out any economic/earnings/valuation-based revival. We lower our BSE Sensex target to 18,900 (from 20,800)–a 12.5x target multiple (95-03 averages); it's the 'old normal.'
SECTOR RATING
OVERWEIGHT
PHARMA; TELECOM; ENERGY; IT SERVICES
NEUTRAL
BANKS
UNDERWEIGHT
CONSUMER STAPLES: MATERIALS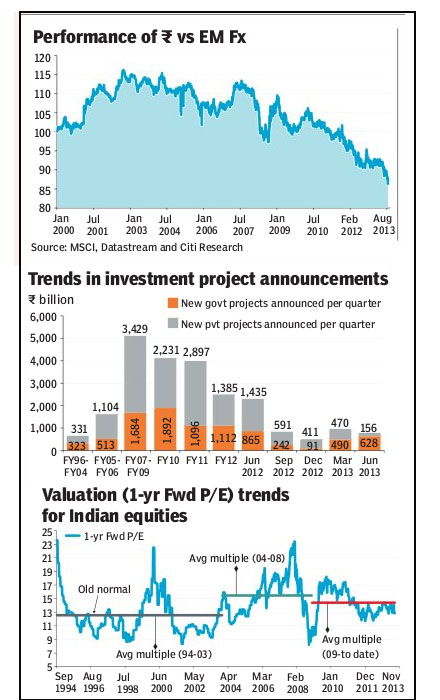 Defences breached
The Indian rupee's defence hasn't worked, but it has raised and inverted the yield curve (second time in ten years), eroded wealth/value (equities, now fixed income, waiting for property) and is stalling the funding market. It hurt the market (-11%$ rel. GEMs in 1m) and it might not be over yet, albeit such falls could offer some near-term bounces (rate/liquidity policy reversal, global support). Defences down, risks up.
FY14's gone, it's FY15 & beyond that is the challenge
This is the fundamental question–how hard has medium-term growth been hit? That's because there is now a corporate confidence/credit crunch, likelihood of it spilling to the consumer, challenges on reform/regulatory issues, and tough markets are making it harder. It's going to hurt–FY14's gone, start thinking about FY15 and beyond.
Don't write India off; it has fixed itself before
India has been here before, and fixed itself; on macro-currency (2002), fiscal deficit (2003-08) and inflation (2001-03). And bottom-up too–asset quality (1999-07), tech bubble (2002), retail credit (2009) and most recently telecom (2012). India needs a policy/bottom-up pullback, some luck and time, and don't write it off. But currently, there's little to write home about.
India has seen such market months before, and bounced back. But more important, it has been able to materially address macro-economic and business challenges, after it had been written off.
This holds true for at the macro-economic levels: be it its fiscal deficit, which it reduced from 6%+ to under 3% over the 2003-08 period; inflation–which it sustainably reduced to sub-5% in the 2001-03 period; and its currency, which appreciated almost 25% (R49 to sub-R40) over 2001-07. These no doubt were very strong growth years, boosted by global capital, but there was method and direction from the policy makers. Can this be done again? Hard to call, but there is government intent (an execution on fiscal consolidation in FY13, and some success on inflation), but it will need a