Given how finance minister P Chidambaram is cutting down on Plan expenditure in a big way, and how this could be the target of further cuts in FY14, the usual critics have come out protesting. Cutting Plan expenditure, the argument goes, robs the country of vital investments—or of expenditure in critical areas like education or infrastructure—and therefore slows down the overall growth potential of the economy.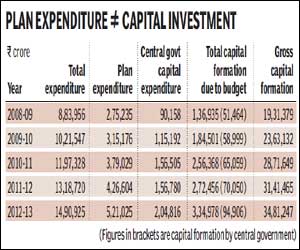 Cutting any expenditure, including digging a ditch and then filling it up, let's be clear, has a contractionary impact on the economy in the first round. What matters, however, is what happens finally. If the contraction in government spending leads to a significant cut in the fiscal deficit—and assuming, as is the case, that the bulk of expenditure is for consumption and not investment—that's beneficial since it lowers overall borrowing costs in the economy.
In general, the distinction between Plan and non-Plan expenditure is an arbitrary one and, for many years now, there has been talk of abolishing the distinction but nothing has ever happened. So, every year, the budget documents happily make this distinction and the lay reader assumes Plan expenditure is sacrosanct, of the nation-building variety, while non-Plan is less so. Nothing could be farther from the truth. Indeed, in FY13, the budget has a Plan expenditure of R5,21,025 crore of which R1,00,512 crore is on account of capital expenses and a non-Plan expenditure of R9,69,900 crore of which R1,04,304 crore is on account of capital expenses. Essentially, Plan expenditure includes expenditures vetted by the Planning Commission after discussion between the finance ministry and various line ministries.
While capital versus revenue expenditure is an important distinction, even this is a bit overblown. Setting aside money for building a new school is important capital expenditure, but surely this cannot be more important than providing for teacher salaries that are revenue expenditure?
But even in the case of capital expenditure, it has to be pointed out, this is very different from Plan expenditure. In FY13 (see table), while Plan expenditure is budgeted to be R5,21,025 crore or 5% of GDP, the central government's expenditure that can really be classified as investment is much smaller. Every year, the government comes out with an Economic and Functional Classification of the Budget that does this. According to this document, for FY13, the central government's total capital formation in FY13 is budgeted at just R94,906 crore, or less