At a time when manufacturing exports shrank by 5.95% and services grew just 1.7% in the first 8 months of the year, Commission for Agricultural Costs and Prices' chief Ashok Gulati's projection that agriculture could touch $42 billion in FY13 has to come as a great relief—that's a 13.5% increase over FY12's mammoth $37 billion. That agriculture exports are doing well is obvious when you consider they increased more than 10 times from $3.5 billion in FY91 to $37.1 billion in FY12, growing at an annual rate of 13.6%. While agricultural imports have grown faster, from $0.7 billion to $17.2 billion, the agricultural trade surplus has increased to never-before levels of $20 billion. Even better, agriculture has become very globalised with the share of exports and imports to agri-GDP rising from around 5% in FY91 when economic reforms began to 18% in FY12 (see graphics). As a result, according to a paper by Gulati, along with Surbhi Jain and Anwarul Hoda, India's share of global agricultural exports rose from 0.8% in 1990 to 2.1% in 2011, a share which is higher than that of global merchandise exports—this rose from 0.6% to 1.7% in the same period.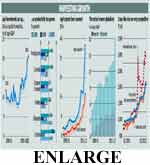 Think of the huge opportunity this gives the finance minister to fix his budget deficit (http://goo.gl/UwzI7)—exporting 10 million tonnes of wheat will fetch $3 billion to the exchequer. And, since FCI stores around 16-17 million tonnes of grain out in the open (covered by a tarpaulin of uneven quality), not exporting this would just mean the grain would rot. Indeed, according to Gulati's calculations, the excess foodgrains stock held by FCI alone has cost the government R1 lakh crore or 1% of GDP.
After years, actually decades, of talking of how pathetic India's agricultural performance has been, how has the farm sector suddenly become this great beacon of hope? This is the sector, after all, where productivity levels are a fraction of those overseas, where small land holdings and the absence of extension services has meant no R&D can be imparted to millions of small farmers. Which is why, for instance, while Punjab's wheat yields are 4,415 kg per hectare, Bihar's are only 1,946.
What's happened is a whole agriculture revolution while we were, as it were, sleeping. While the export surplus of $20 billion in FY12—India has been a net exporter of agricultural goods for at least the last