P Chidambaram received accolades from some unwary quarters for having brought down the fiscal deficit by 1.2% of the GDP over the last two years. Pranab Mukherjee had allowed it to climb to 5.7% in 2011-12. Chidambaram declared victory by showing that the fiscal deficit had been brought down to 4.5% in 2013-14 (FY14) that was significantly lower than the target of 4.8%. This was sheer miracle. The sharp reduction was apparently achieved despite lower than targeted GDP growth, sharply lower tax revenues, weak disinvestment receipts and subsidy payments. However, Chidambaram did manage to avert a credit downgrade with this show of fiscal rectitude. But was it for real?
Since 2000, there had been three periods when fiscal deficit was brought down by more than 1% over two years (see chart 1). In FY04, fiscal deficit was reduced by 1.7% aided by definitional change. And in FY08, it was brought down by 1.4% over FY06. So Chidambaram's effort, if for real, deserved kudos.
With fiscal deficit officially reported to be 5.3% for the 11 months until February, the entire fiscal improvement was apparently achieved in the single month of March 2014.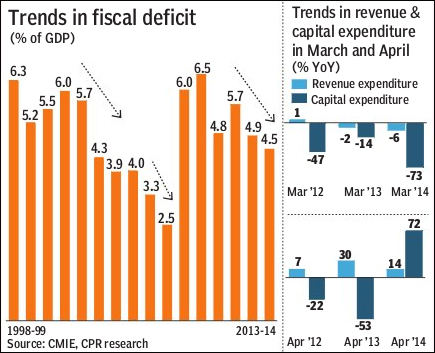 Moreover, as the latest data reveals, there has been a 72% year-on-year increase in capital expenditure in April 2014 and 70% increase in non-Plan expenditure in May. This has pushed up total expenditure in first two months of FY15 to 29% year-on-year versus budgeted estimate of 12.8% and the fiscal deficit in these two months to 45.6% of budgeted estimate as opposed to 33% in the previous year. Prima facie, therefore, this calls for a more detailed examination.

Provisional estimates for FY14 indicate that gross tax revenues, growing only by 10% against a target of 19%, fell short of budgeted numbers by about R97,000 crore. This reflected the impact of the sub-5% GDP growth rate for last eight consecutive quarters. The lower industrial and foreign trade growth resulted in a shortfall of about R43,000 crore in excise and custom duties. And service tax collection came in lower by R25,500 crore despite the inclusion of several new services in the tax net. Disinvestment receipts were even less than half of the budgeted amount on poor market sentiments. Non-Plan revenue expenditure was higher by R30,000 crore mostly due to increased subsidy payments. But despite the shortfall in tax and capital revenues and higher subsidy payments, the