Demand for government securities by foreign institutional investors (FIIs) went up again in the month of May and foreign investors pumped in $2.74 billion following the formation of a stable government led by the Bharatiya Janata Party on May 26. In April, FIIs had turned net sellers as they were not permitted to invest in short-term paper such as treasury bills and sold $1.8 billion.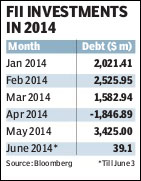 In the year to date, FIIs have invested $7.8 billion in Indian debt markets.

Foreign institutional investors (FIIs) mopped up 82.47% of the available $20 billion in government bonds as on June 4, according to data published by the National Securities Depository on Thursday. Currently, R82,091 crore worth of government bonds have been purchased and only R17,455 crore remain under the $20 billion limit, according to the data.

Last year, the government had raised the foreign institutional investment (FII) limit in government bonds by $5 billion to a total of $30 billion.

Demand for the government securities has also pushed the benchmark bond yield down by to 8.53% on Thursday's close, which was the lowest level since January 2014.