Foreign institutional investors (FIIs) turned net buyers of Indian equities in cash as well as all the four sections of the derivatives market last week, the first time in nearly a year, backed by a revival in macro-economic fundamentals and belief of a stable government in the upcoming general elections.
Overseas fund managers bought $496.03 million shares in the cash segment last week. More importantly though, FIIs were net buyers in index futures, options, stock futures and options to the tune of $1.659 billion last week, according to Sebi data.
FIIs net bought $611.63 million of index futures, $589.24 million of index options, $444.26 million stock futures and $14.36 million of stock options. The buying spree by foreign funds overturned the selling pressure by domestic institutional investors (DIIs), pushing benchmark indices up 4% on a week-on-week basis to new highs. The 30-share Sensex came close to touching 22,000-mark, while the Nifty crossed the 6,500-mark last week.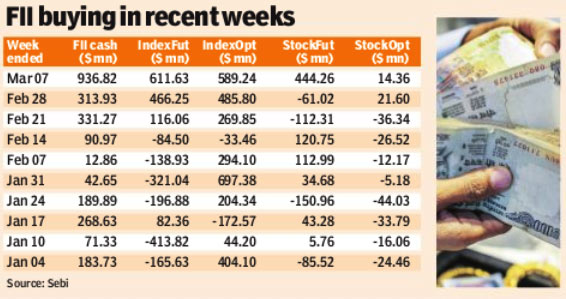 "FII buying coincides with the sharp rise in Indian equities last week...Expect the momentum to continue in the near-term. Even global markets are supportive and there is nothing that will scare the investors at the moment," said Andrew Holland, CEO, Ambit Investment Advisory.

FIIs, who have been betting heavily on BJP\'s Narendra Modi to lead the next government at the Centre, have pumped more than $1.2 billion into Indian equities in the last three weeks as recent opinion polls suggest a strong victory for the BJP in the upcoming elections.

Twelve out of 15 opinion polls since April last year show anti-incumbency and predict the BJP to win the next elections.

The latest national poll by CSDS last week showed the BJP-led National Democratic Alliance (NDA) to win 212 to 232 seats in the Lok Sabha election while the Congress-led UPA would end up between 119 to 139 seats.

Further, concerns surrounding current account deficit eased after the Reserve Bank of India showed current account deficit falling to its lowest in eight years.

"Current account deficit (CAD) has been one of the major cause of concerns for markets. Optimism of shrinking deficit is likely to boost the rupee and prompt foreign investors investments further... Positive momentum is likely to continue," said Sirshendu Basu, chief investment strategist, Standard Chartered Securities.

While the exact details pertaining to stock purchases was not available, analysts said buying has been more concentrated in banking