The government's FY15 proceeds from disinvestment including that from "SUUTI stake sale", ambitiously pegged at R63,425 crore in the recent Budget, could turn out to be even higher if a plan prepared by the finance ministry materialises.
According to the ministry's internal estimate, reviewed by FE, from the stake sales being lined up for the year in 11 PSUs, including ONGC, Coal India, SAIL and NHPC, the government could fetch R13,732 crore more than the R43,425 crore budgeted.
Additionally, the proceeds from sale of residual stakes in two private companies — listed Hindustan Zinc and unlisted Balco, both controlled by the Vedanta Group — could well be above the budgeted figure of R15,000 crore, sources said, even as valuers are expected to submit their reports in two months.
The target of R63,425 crore mentioned above also includes R5,000 crore expected to be raised from the sale of a bit of the government's SUUTI stake in Axis Bank. Last year, the government raised R16,027 crore from PSU disinvestment and R3,000 crore from the sale of a part of the SUUTI stake in Axis Bank.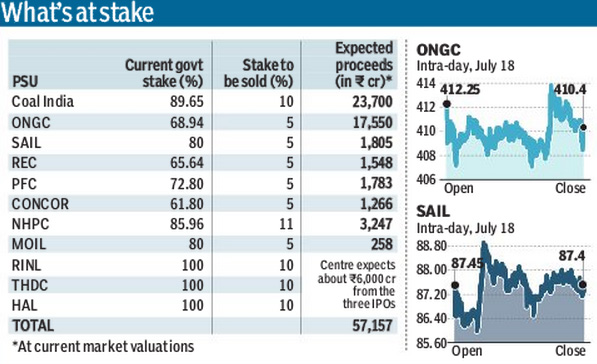 For the ministry, which could struggle to meet its growth target of 16.9% for net tax revenue and is relying more on non-tax receipts, the disinvestment revenue is more important this time around when it comes to sticking to the fiscal consolidation plan. Finance minister Arun Jaitley kept the fiscal deficit target of 4.1% of GDP set by his predecessor P Chidambaram in the interim budget. Buoyant markets are inspiring confidence in the government.
The Coal India and ONGC stake sales, the largest on the anvil, are expected to rake in a total of about R41,250 crore.
As reported by FE earlier, the disinvestment road map also includes three IPOs, namely defence behemoth Hindustan Aeronautics, steel maker Rashtriya Ispat Nigam and power producer THDC India. The three debuts are expected to mop up about R6,000 crore for the Centre.
Disinvestment secretary Ravi Mathur told reporters on Friday that the stake-sale plan was on track and the department already had all the approvals for SAIL, Hindustan Zinc and Balco, with approval for other companies being sought at present. Mathur said that the budgeted target would likely be exceeded given that the markets are at a high.
The BSE Sensex has gained nearly 7% since the victory of Narendra Modi-led BJP in the Lok Sabha elections on