Stepping up pressure on public sector banks (PSBs) to bring down bad loans, the finance ministry has widened its monitoring of non-performing assets (NPA) from 'top 30' NPA accounts to 'top 50' for all state-owned lenders. The ministry has also asked lenders to submit an action-taken report on recovery for the 'top 50' NPA accounts as on December-end 2013.
In a communication to PSB chiefs, the new secretary of department of financial services (DFS), GS Sandhu, also sought a list of wilful defaulters and findings of prima facie diversion of funds by such borrowers.
The scope of supervision has been extended to the top 50 NPA accounts to get a better picture of the bad loan problem, official sources said. At June-end 2013, gross NPAs with the top 30 accounts of 26 PSBs were worth R63,671 crore, which is around 35% of their total gross NPAs of R1,82,829 crore.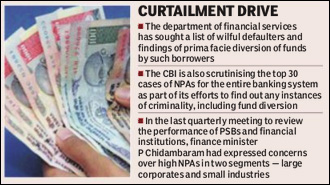 Incidentally, the CBI is also scrutinising the top 30 cases of NPAs for the entire banking system as part of its efforts to find out any instances of criminality, including fund diversion. In the last quarterly meeting to review the performance of PSBs and financial institutions, finance minister P Chidambaram had expressed concerns over high NPAs in two segments — large corporates and small industries.

The seriousness of the NPA problem was also captured by ratings agency Fitch. In a report released on Thursday, Fitch Ratings expressed concerns over stressed assets in India compared to other Asian emerging markets. Fitch said it "expects Indian banks' asset quality to weaken further, with stressed assets (NPAs and restructured loans) to rise from 10% (at mid-2013) to around 15% during FY15 (by March 2015)."

"State banks are most affected and may need R3.8 lakh crore of new equity by 2019 to achieve full compliance with Basel rules, although delayed implementation has reduced near-term capital pressure," it added.

In addition to bad loan recovery efforts on top 50 NPAs and the list of wilful defaulters, the DFS secretary also sought details of monitoring of projects by state-owned lenders in corporate credit after loan disbursement. He also wanted to know if the PSBs were maintaining a database of assets to which lending has been done and, if so, the details of it. This will form part of the ministry's performance review of PSBs, following its concerns over rising NPAs and deteriorating asset quality,