Even during volatility in the equity market, gold as an asset class has very negative correlation with other asset classes
Sundeep Sikka
Gold is a unique asset which plays many roles in investor's portfolio. Amongst Indians, gold is an investment more than jewellery, due to its benefits and the importance it carries as a tradable liquid asset.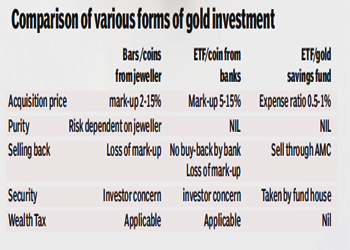 It is one of the foundation assets for Indian households and means to accumulate wealth from a long-term perspective and has been an attraction among Indian investors due to financial uncertainty and inflationary pressures.
Given the market scenario, where gold as an asset class has garnered higher returns than other asset classes, such as equity and debt, it is considered as a most lucrative asset class. Even during volatility in the equity market or the worst economic scenarios, gold as an asset class has very low/negative correlation with other asset classes, which, in turn, offers diversification benefits to investors.
In the last decade, the price of gold has surged from R4,474 (10 gms) in FY01 to R31,000, in current time. The industry has witnessed almost R7,000 crore of purchases in gold ETF and gold funds during the last 18 months. In comparison to other asset classes, gold has consistently delivered growth. With higher inflation rates, many investors think gold is the best asset class to invest in, during a phase of rising inflation.
We have witnessed in the past that the performance of gold asset class has been positive and even during the adverse economic calamities, gold has performed really well. As macroeconomic uncertainties continue to haunt global financial market, Investors are infusing money in gold ETFs. The recent QE3 by the Fed and long-term refinancing operation (LTRO) from Europe created a spike in the price of gold. As long as there is excess liquidity in the world market gold prices are likely to remain firm.
Gold Prices are currently hovering around USD 1,735/Oz level not breached since March 2012. International gold prices have appreciated by more than 7% since the start of August 2012. Gold prices in India are at a striking distance from the R32,000 per 10 gram mark. The two major global events that have triggered this rally are optimism about a euro zone bailout fund and third round of quantitative easing by February. Physical jewellery demand has dried up in India and China due to, record high prices. We