Q1FY15 results were ahead of our and consensus estimates, led by a 90bps reduction in A&P (advertising and promotions) expenses as well as one-off credit in employee expenses. Hindustan Unilever (HUL) reported volume growth of 6%, but adjusted for the one-off in the base quarter, this was closer to 5%. The results do not show any significant improvement in underlying trends, with the management saying that market conditions continue to remain tough. Poor monsoon could yet have an impact on volume growth as well as input cost in H2FY15F (forecast). With valuation high at 33.9x FY16F P/E (EPS: R20.3) vs. sector average of 27.1x FY16F, we believe the risk reward remains unfavourable. We raise our TP (target price) to R540. Volume growth continues to be in the mid single-digit range. Profit after tax was 6.8% above our estimate.
Key numbers
*Net sales rose 13.4% to R72.8 bn vs. our expectation of R74.2 bn.
*Gross margins contracted 62bps to 47.3% vs. our expectation of 30bps y-o-y expansion.
*Ebitda came in at R13.17 bn vs. estimate of R12.16 bn.
*Ebitda margin came in at 17.4%, up 120bps y-o-y, vs 16.4% (up 20 bps y-o-y).
*The key surprises were: advertising spends which declined 90bps y-o-y to 13% (our estimate of 14%), and staff cost which declined 60bps y-o-y to 4.4% (Nomura at 5%).
*PAT came in at R10.17 bn vs. R9.53 bn, led by higher other income which rose 15% y-o-y.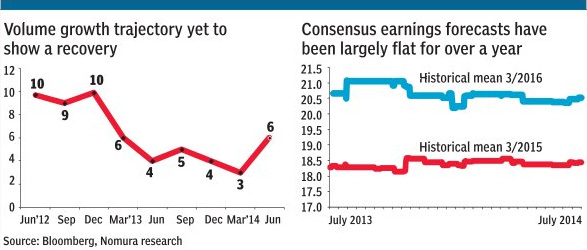 Feedback from conference call
*Demand conditions remained challenging with volume growth further softening across all categories. Premium and discretionary categories remained soft.
*The competitive intensity remains high across all categories despite lower media spends. The competitive intensity is more rational now.
*Input costs were high and pose a key challenge, especially palm fatty acid distillate (PFAD) costs were up 43% y-o-y in INR terms.
*Innovation and renovation: During the quarter, HUL launched Ponds Men's range, Close-up Diamond Attraction and Taj Mahal Darjeeling tea. Ponds was relaunched during the quarter.
*Growth led by premium products: Dove in soaps and shampoos, Surf in laundry, green tea in beverages, liquids in wash and Close-up in pastes led the growth.
*Re-launches: Among key brands re-launched in the past few quarters, Wheel, positioned in the mass market segment, has shown an improvement. Fair & Lovely has shown double-digit growth.
*Small packs lead growth: This was particularly true for categories