India has seen a decisive electoral mandate after a long gap leading to formation of a stable government at the Centre. While the industrial sector is excited about the positive outcome, there is talk of improvement in sentiment in real estate as well.
Buyers who were till now sitting on the sidelines, hesitating to invest their money in property, waiting for the economy to revive, are now showing a turnaround in sentiment, shows a study by Makaan.com. The research conducted last month involving 1,400 home buyers, in cities like Mumbai, Delhi NCR, Bangalore, Chennai, Pune, and more, indicated this trend - when asked whether the new government's arrival would have a positive impact on real estate sector, 80% of the respondents answered in affirmatively.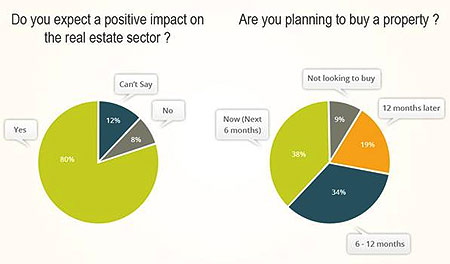 As far as a drop in property price and interest rates on home loans is concerned, while 26% of home buyers are expecting a drop of over 10% in coming 12 months, 19% of the buyers expect prices to go up. Expectations of low interest rates on home loans are relatively high with 68% of home buyers believe that it will fall from the present levels.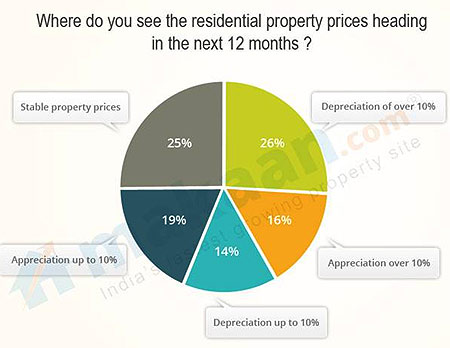 Presently interest rates range from 10-14% depending on the cost of the fund for lenders. It has been speculated that government will announce measures in the forthcoming Budget that it will lower the interest rate burden on prospective buyers. This can be done by either giving industry status to some identified segment within real estate or by including home loans in the priority sector lending for banks.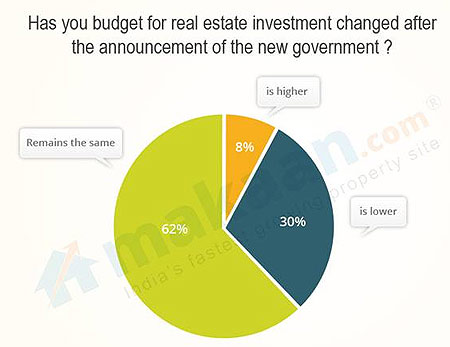 The research, intended to gauge expectation of home buyers from BJP-led government, highlighted that the affordable housing that cost around 40 lakhs will continue to be preferred by a majority with 60% respondents opting for it. Mid-segment housing (40-75 lakhs) is preferred choice for 27%, high-end housing (75-125 lakhs) is preferred choice of 8% and only 5% chose the category of luxury housing. The budget for majority has however remained the same in-spite of the economic slowdown of the past few years.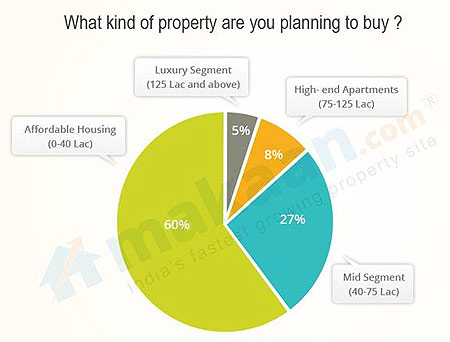 Among the factors that affect the buying decision, location and price continued to be on the top of the list. The preference for price(35%) is slightly higher over