A near 6% correction in the Indian stock markets over the last three trading sessions and from the start of the year has led many analysts and investors to start looking for good quality stocks being offered at great bargains due to the selloff in the broader markets.
A section of the Street is hailing the correction as a buying opportunity with many bluechip stocks dipping below long-term valuations measures. As per Morgan Stanley, apart from low valuations on some counters, some of the sentiment indicators are in oversold territory as well. Morgan does not rule out a market rally based on this observation, although it says that until the fundamental construct changes, this is will be a rally to sell and not buy.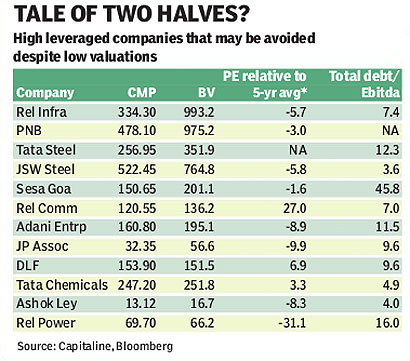 According to Nirakar Pradhan, CIO, Future Generali Life Insurance, investors tend to flock towards defensive sectors in the current scenario. " The latest correction also gives opportunity to accumulate strong blue chips across sectors that can be obtained by a bottom-up preference for longer investment horizon," believes Pradhan.
Given the backdrop of a weak Indian rupee vs US dollar, low leverage and moderate forex liabilities may be the key parameters to consider while looking at bluechip stocks that also offer good value, says Pradhan.
These may include large caps that are trading at discounted valuations and are placed to benefit from their niche positioning in the sector. Shares like Coal India, Larsen & Toubro (L&T), HDFC, Infosys, Dr Reddys Laboratories (Dr Reddy's), Reliance Industries (RIL) and Titan Industries Ltd may be part of this universe.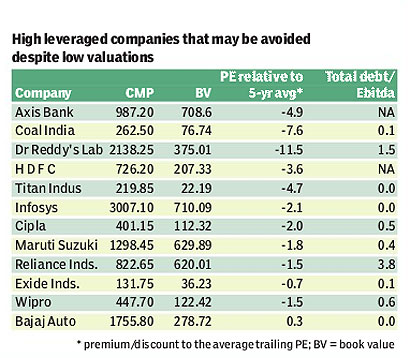 After the recent market correction, at least a fifth of the BSE 100 companies is currently trading below respective book value. Further, almost 70% of the sample companies are trading below their five-year average price-to-earnings multiples. Most of these companies belong to sectors like banking, infra, power, capital goods and metals that have higher sensitivity to the slowdown in capex cycle of India Inc as well as the broader slowdown in growth.
Analysts, however, are cautious about looking at high debt companies even though many of these are also available at attractive valuations. From the BSE 100 universe,