After witnessing decline for two consecutive years, FY14 saw some pick up in the first year premium collection in the life insurance space, thereby suggesting some growth coming back to the industry. While the industry is still some distance away from the premium collection figures it clocked in the year ended March 2011, since when the decline began, there is a lot the industry will need to do to reach out and to sustain its growth.
The Reserve Bank of India has decided to roll out banking licences on a regular basis with an aim to reach out to the unbanked and enhance banking coverage. Even the Securities and Exchange Board of India has allowed individuals without PAN card or a bank account to invest up to Rs 50,000 in mutual funds through cash and allowed special incentive for selling mutual funds beyond top 15 cities. On the same lines, the insurance industry will also have to take steps that push the reach and growth of the industry that has languished over the last few years.
Issues crippling the industry
The state of the broader economy has certainly a lot to do with the performance of the financial services sector. Over the last few years, a decline in GDP growth rate and high inflation have had a direct impact on the disposable income of individuals and had an impact on the money flowing into insurance sector along with others.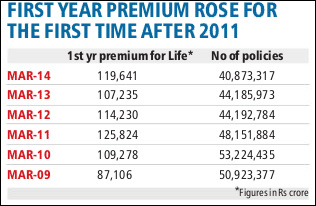 A stagnant equity market has also played a role in the investors' disorientation from equity-oriented schemes as they moved towards gold and real estate. Unit-linked insurance products have suffered hugely and their volumes have gone down significantly. However. a strong mandate provided by the electorate in the recently concluded general elections does augur well for the equity markets and the overall financial sector.
The industry has been suffering from low penetration which currently stands below 5 per cent of the GDP and also has been affected by low level of awareness on need for protection cover.
"The moderation in the net financial saving rate of the household sector during the past couple of years mainly reflected an absolute decline in small savings and slower growth in households' holdings of bank deposits, currency as well as life insurance funds. Households seemed to have favoured investment in physical assets like real estate and valuables, such as gold," said