In almost all developed countries, the concept of electric cars for urban use has already begun and such cars can be seen frequently on the streets. They are usually light, nimble, differently shaped and it's usually easy to spot them. In India, one of the very few car manufacturers who have taken the initiative to work on electric cars is Mahindra Reva Electrical Pvt. Ltd, with their special electric car called "e2o" to which a new version has been added recently.  
Taking a look at the car as a whole, the lines are smooth and help the car look like it has some muscle. From the front the car looks smart and a big grille helps it look like it has a massive engine underneath the bonnet, which belittles the fact that this is purely an electric car. The bonnet is at a steep angle, which gives the headlights of the car a sharp looking profile. The wheel arches are huge and due to the angle bending nature, they add a certain space age character that electric cars are perhaps the only vehicles capable of pulling off.  
The car is essentially a two door hatchback which has space to seat four adults. The powerhouse of this car is run by a 48 Volt Lithium Ion battery that is claimed to be maintenance free, and the motor produces 14.8 Kilo Watts which amounts to about 20 horse power at 3000 RPM and 53.9 Nm of torque (0 – 2000 RPM) for the base "T01" model. And 19 Kilo Watts, amounting to about 25.4 horse power at 3750 RPM for the higher spec T2 premium version, along with the same amount of torque (53.9 NM). Such figures are helpful when we consider the Indian traffic conditions and the need we feel for some pulling power when overtaking is required. It's not lightning fast, but that's not the point of this car anyway.  
At a length of just over 3.2 meters, the car is significantly easy to park than the other cars that are basically trying to fall under the 4 meter mark, by just a few millimeters. The e2o is easy to park, has an amazing turning circle radius of about 3.9 Meters, which makes changing direction very easy, especially when the car has to be turned from standstill.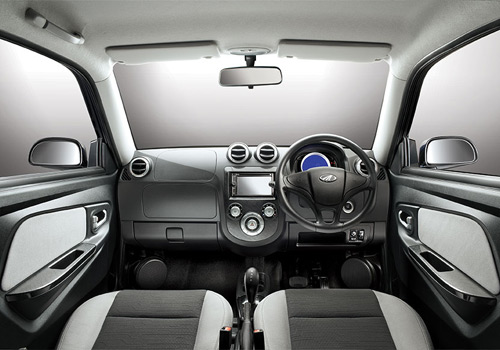 The base model of