Southwest monsoon rains are expected to hit the Kerala coast in the next two days, the India Meteorological Department (IMD) said on Tuesday.
"Conditions are favourable for the onset of south-west monsoon over Kerala and its further advance into some more parts of the south Arabian sea, some parts of Tamil Nadu and some more parts of Bay of Bengal during the next 48 hours." IMD said in its evening weather bulletin.
The Met forecast also stated advancement of the south-west monsoon into parts of north-eastern states in the next 72 hours.
Last month, the IMD had forecast that the monsoon rains would arrive over Kerala's coast on June 5. However, the forecast had a model error of four days.
"Isolated heavy rainfall would occur over West Bengal and Sikkim, Arunachal Pradesh, Assam and Meghalaya, Nagaland, Manipur, Mizoram and Tripura, north Tamil Nadu, south interior Karnataka and Kerala," the Met department said for the June 5 forecast.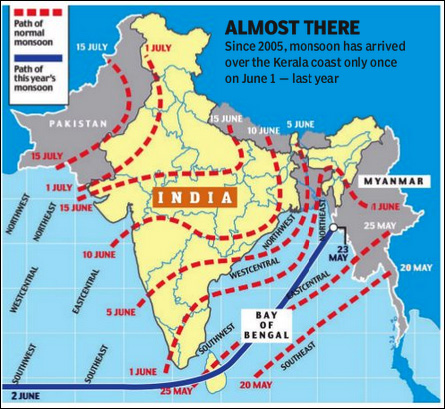 Since 2005, monsoon rains have arrived over the Kerala coast only once on June 1 — last year. Other years, the arrivals have been earlier or delayed by a few days. "Delay in arrival of monsoon rains for a couple of days is normal as the rains spread across three to four months," an IMD official told FE.
Monsoon rains covers most parts of the country during June and July. Even the rains in August and September are attributed to the monsoon phenomenon.
In recent weeks, concern has been raised about the adverse impact of El Nino on the monsoon rains. "Once the monsoon enters the Kerala coast, we will monitor its progress closely as rainfall in June and July is crucial for kharif production," an agriculture ministry official said. The official pointed out that any delay in rains may not impact kharif crop output but it may delay sowing activities.
The first forecast by IMD in April had predicted monsoon rainfall at 95% of the Long Period Average (LPA), calculated on the basis of 50-year average rainfall of 89 cm in the June-September season of 2014. The IMD forecasts was just below the normal average of 96-104% of LPA.
The worrying aspect is that the first forecast had given 23% probability of a 'deficit' monsoon – which implies rainfall below 90% of the LPA. The forecast had given 33% probability to 'below normal' monsoon (90-96%