India's power supply situation, already under stress from peak summer demand, could worsen further as six NTPC plants with aggregate generation capacity of nearly 17,000 MW face a shutdown due to inadequate coal stocks.
Late on Monday, NTPC Ltd informed the Power Ministry that these coal-based plants — located in the northern, western and southern regions — have "reached at a critical level of coal sufficient only for less than two days".
"It is pertinent to mention that with the ensuing monsoon, it will become more difficult to replenish the coal stock and in case of even a small disruption, the total power generation at these stations will be adversely affected," NTPC chairman & managing director Arup Roy Choudhury wrote.
As of Monday, according to figures supplied by Roy Choudhury in his letter to the power secretary, three of the six plants had less than a day's supply of coal in stock, and even the best stocked plant among them was in danger of running dry in two days.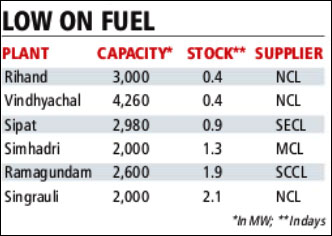 Roy Choudhury did not respond to repeated calls and messages asking for the latest stock position.

Supply to the Rihand and Vindhyachal plants has been affected because of problems at the coal handling plants at Northern Coalfields Ltd (NCL) mines. A protest by villagers has stopped mining at Mahanadi Coalfields Ltd's (MCL)Talcher mines, affecting the Simhadri plant.

Stock levels at Sipat have fallen due to the ban on daytime movement of large trucks carrying coal from mines of South Eastern Coalfields Ltd (SECL). Production has dropped at Singareni Collieries Company Ltd (SCCL) due to environmental stipulations, affecting the Ramagundam plant.

The Power Ministry has sought the intervention of Minister Piyush Goyal, who also heads the Coal Ministry, for an urgent resolution. The crisis has been exacerbated after the Indian Railways indicated that it would not be able to provide extra rakes to transport coal.

NTPC, which imported 10 million tonnes of coal last fiscal, is going slow on its April tender to import 7 million tonnes. The state-run power generating company wants the Finance Ministry to waive customs duty on imported coal until domestic supplies improve.

NTPC has a target of importing 15 million tonnes of coal in the current fiscal largely because it has not been able to source coal domestically.

Northern India faces a massive shortfall of 1,500 MW, with four units of the Vishnu