Ahead of the proposed 5% disinvestment in ONGC, the government may partially relieve the state-run oil explorer from its mounting subsidy burden by allowing it a net price realisation of $65 per barrel from the sale of crude oil.
In FY14, ONGC realised a net price of around $41 per barrel from sales of oil even as its average pre-discount price was $106.7 a barrel. That translated into a debilitating subsidy burden of $65.8 per barrel or an all-time annual high of R56,384 crore.
The government is also weighing the option of using the Kirit Parikh formula that would result in the total subsidy share of ONGC and the two other upstream oil PSUs (Oil India and GAIL) becoming smaller although it would see a graded increase with global crude price.
Sources said the oil ministry is discussing the proposals with the finance ministry, which is relying heavily on divestment proceeds to meet the budget numbers and will look to mop up about R17,500 crore from the ONGC stake sale.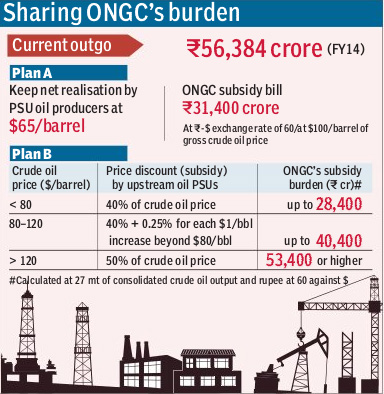 "After coming to a conclusion, the matter would be taken to the (CCEA) Cabinet Committee on Economic Affairs for its nod," a senior petroleum ministry official said.
The proposed formula of assured minimum realisation from oil sales would work out to an annual subsidy share of R31,400 crore for ONGC (assuming a rupee-dollar exchange rate of 60 and a crude oil price of $100 per barrel).
n Continued on Page 2
The use of the Parikh formula would lead to a similar figure if the price of crude oil and the rupee are assumed at the same levels. The Indian crude basket is hovering between $104 and $105 per barrel right now.
The petroleum ministry's move is prompted by the need to enable ONGC to invest meaningfully for exploration and production (the oil major has paid a whopping Rs 2.72 lakh crore as fuel subsidy over the past 11 years and its share of subsidy has skyrocketed in recent years).
Of course, the periodical increases in diesel prices and the planned roll-out of the direct benefit transfer scheme to disburse cooking gas subsidy are expected to pare the under-recoveries of oil marketing companies this fiscal without straining its own finances.
ONGC's ever-increasing subsidy burden is a major concern among investors (from Rs 2,690 crore in FY04, it surged to Rs 56,384 crore or 40% of the total OMC under-recoveries in