The market for wearable bands is picking up like never before. According to research firm Canalys, 2.7 million wearable bands shipped worldwide in the first quarter of 2014. But the really interesting nugget here is that Fitbit holds 50 per cent market share in this, powered by its domination of the basic bands segment. Pebble was ahead in the smart wearable bands segment with a 35 per cent market share.
Jawbone grew in the basic band segment even was Nike's share dropped to 10% as the sales of its FuelBand took a hit in sales. Nike is thinking of canceling future FuelBand products, as company's focus shifts to fitness software and the Nike+ community.
Canalys expects market shares in the smart band segment to change frequently as new products are released throughout 2014. "Pebble Technology launched the Pebble Steel and the Pebble appstore and grew at a healthy rate during Q1, managing to achieve smart band market leadership for the quarter with a 35% share of worldwide shipments, ahead of both Sony and Samsung," said Chris Jones, VP and Principal Analyst.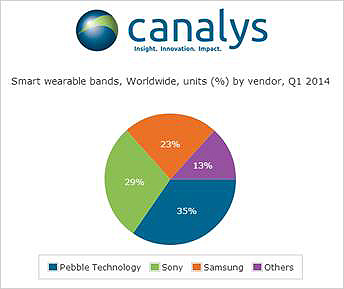 "Our quarterly estimates showed that total smart band shipments fell short of half a million units. This is largely because Samsung's shipments were down dramatically quarter on quarter as it had strong sell-in for Q4 and then cleared inventory in preparation for its Gear product refresh in early Q2. The company must make some big steps to improve sell-through and customer satisfaction with its new products," he added.