Yes, this bag charges your phone, but also leaves a deep hole in the pocket. In a country where the return always dominates the decision to invest, the Samsonite solar backpack is not for the working middle-class. Here's what we make of the unit which is more than the solar charger. In fact, better without the solar charger.
Design: One look, and the bag shouts 'crafted to perfection'. With well placed and spacious slots to hold a 15-inch laptop, iPad, charger(s), headphones, the gadget is a delight for the finicky — those who just want the right thing at the right place. As far as the durability is concerned, the material gets a thumbs up for that. It passed the dust, water and drop test with flying colours. Unlike a couple of other solar backpacks in the market, this one from Samsonite does not compromise with the bag unit for the charger. For a 15-inch laptop user like me, the backpack is a much-needed break from the clumsy options available in the market. This unit not only holds it tight, but gives enough breathing space for seamless removal and insertion.
The charging unit on the other hand is completely detachable and nowhere related to the backpack. It comes like a typical zip pouch with the solar charging unit neatly packed with a hard layer of plastic, which makes it fit enough to wear extreme heat, dust and rain. Inside the pouch, there are neat slots to hold your charger, cell phone – we tried an iPhone 4 and a portable digital camera.
The solar test: After enjoying the backpack and its convenience, it was time to put the unit to the real test, the 'sun test'. We did not have the option of carrying it on the back for a three-hour trek, so the charging unit was exposed to sunlight by placing it strategically on the car – which was in motion for 45 minutes – dashboard for approximately 8 hours. On the little exposure to the sun, the four LEDs danced in a rhythm.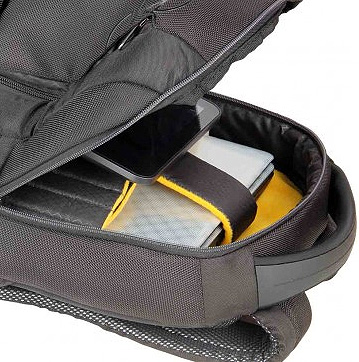 After charging it enough, the charging unit was put to test but only to give disappointing and frustrating results. Eight hours of direct sunlight and the charger was put to iPhone test. A fourth generation iPhone was plugged in, and after one hour and 32 minutes it returned with a