The National Company Law Tribunal (NCLT) to fast-track company law cases and corporate structuring by replacing the Company Law Board and the BIFR got the approval of the Supreme Court on Tuesday. The tribunal that was proposed in the 2002 amendment to the Companies Act was caught in a major legal wrangle amid fears that its structure as proposed by the government flouted the Constitutional separation of powers by vesting essential functions in the quasi-judicial body.
While giving the nod for the setting up NCLT, the SC, however, underlined the importance of maintaining its judicial flavour, and suggested changes in the structure of the tribunal for this.
NCLT would help expedite the approval process for M&As in the private sector, a function of high courts. The tribunal would also allow timely unlocking of the value of distressed corporate assets, as it would take over the process of liquidation of companies, now performed by official liquidators attached to high courts.
According to World Bank, liquidation of assets in India fetches the investor just 16 cents against a dollar invested, whereas the average return is 65-70 cents in Japan and 35-40 cents in most European countries. Further, it takes about 12 years to liquidate a company in India, via the lengthy and cumbersome process involving the BIFR, the appellate authority over it, and the high courts.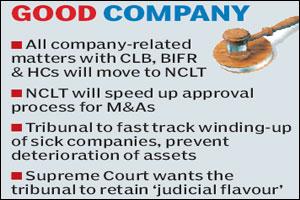 In contrast, most developed countries are able to complete the winding-up of companies 1-3 years.
A five-member Constitutional bench headed by outgoing Chief Justice KG Balakrishnan upheld the validity of the 2002 amendment, but said the proposed tribunal should be headed by a retired high court judge, who and other members would be appointed by a committee headed by the Chief Justice of India. The original proposal was for the government to appoint the chairman -- who need not be a judge -- and other members, from various technical disciplines. In its ruling, the SC has warned against the tribunalisation of justice system and executive and technical members having a dominant role in a quasi-judicial body. The judiciary should be a key part of the process and should be in majority, it said.
The legal fraternity welcomed the SC's "balancing act". The community of professionals like chartered accountants and company secretaries who were ardent supporters of the NCLT model too reacted positively. The government, however, responded