Seven years after it took off, budget carrier JetKonnect is still struggling to find its feet. The no frills airline's losses widened to Rs 429 crore in FY14 from Rs 295 crore in the previous year, according to data submitted by Jet Lite to the ministry of corporate affairs (MCA). In May, JetKonnect's market share slipped to just 3.9% from 5.4% at the end of March.
Indeed, JetKonnect, run by JetLite (India), the fully-owned subsidiary of Jet Airways, has posted an annual profit only once in the last six financial years, while its losses have quadrupled in the last four years. The revenues of the airline, which is run by the same management team that operates Jet Airways, fell 13.2% year-on-year to Rs 1,747 crore FY14. During the same period, the airline's parent company, Jet Airways, saw its consolidated losses widen to Rs 4,129.76 crore from R779.78 crore in fiscal 2013.
Industry experts say JetLite's troubles stem from the fact that Jet Airways doesn't have a clear strategy and a viable business in place for the low-cost carrier as it grapples with a high cost structure. "JetLite has been neglected by Jet Airways," Kapil Kaul, chief executive of CAPA-Centre for Aviation, South Asia observes. Kaul believes one of the reasons for the widening losses is the cost structure of the airline, which is the highest among competitors.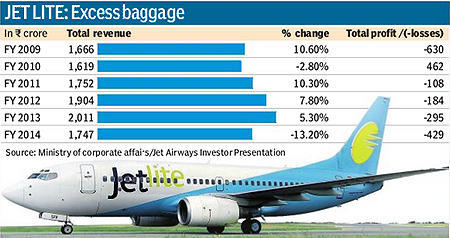 Jetlite's cost of available seat-kilometre (CASK), a measure of unit cost, was 25% higher than that of SpiceJet, the only listed no-frills carrier, in FY14. While JetLite's CASK stood at R5, SpiceJet's CASK stood at R4.04, CAPA data shows. Furthermore, JetLite's revenues have been affected due to a fleet rationalisation exercise undertaken by the company that resulted in lesser capacity to ferry passengers, said Kaul. JetLite's current fleet size at the FY14 stood at 12 Boeing 737 aircraft, down from 15 in FY13, and 19 in FY12, according to CAPA data.
"Some of JetLite's costs like salaries are higher than those of its competitors like IndiGo and SpiceJet," said an aviation sector analyst with a foreign brokerage. Analysts note that while JetLite clearly needs to notch up more market share to break even, that seems to be getting increasingly difficult with the entry of AirAsia India who are offering rock bottom fares on some routes. Moreover, incumbents like IndiGo are joining the price war