With the proposed revision in rates, come April 1, vehicle owners may have to pay higher premiums for the mandatory third-party motor insurance
From April 1, vehicle owners will have to pay more for the mandatory third-party motor insurance. The proposed increase will be around 85% for private cars below 1,000 cc and around 44% for cars above 1,500 cc. For two-wheelers below 75 cc, one will have to pay R472 — a hike of 35%. For two-wheelers above 350 cc, the hike will be a whopping 108% from the previous year.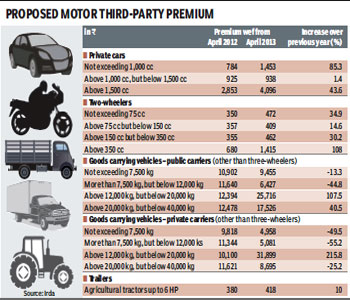 In 2011, the Insurance Regulatory and Development Authority (Irda) had said that it would review the premium rates for third-party motor insurance annually. Last year, it revised the rates in the range of 5-20%. In 2011, Irda had increased third-party premium rates by as much as 68% for commercial vehicles and 10% for private cars. For certain categories of commercial vehicles, the mandatory third-party insurance cover would be less than the last year (see graphic).
Irda has made it compulsory for insurers to ensure that the cover is available at their underwriting offices. To arrive at the new third-party motor premium, the regulator has made use of the data available with the Insurance Information Bureau (IIB) for the experience period of the underwriting years 2007-08 and 2008-09 for number of policies, number of claims reported and amount of claims paid up to March 31, 2012.
Irda has then estimated the expected ultimate frequencies and severities for each class of vehicles. "In addition to loss development to its ultimate level, it is important that the losses are adjusted for any trends in frequency and/or severity. Accordingly, the losses are trended from the experience period to the future period during which the rates will be applicable," says the exposure draft on revision in premium rates for motor third-party insurance covers for FY14.
Irda put out the draft exposure on the new rates and the formula for calculating them under the directive of the Calcutta High Court. It will have to take stakeholders' suggestions into account before the rate is actually revised.
As per the motor vehicles law, the third-party cover is unlimited in the case of an accident and the entire compensation will have to be paid by the insurer. In the case of damage to property, the claim amount can be a maximum of R7.5 lakh.