Driven by buoyant market sentiment, stock-specific trading activity has witnessed a rise in the last two months. At a time when positive election outcome has increased trading interest in mid- and small- sized companies, which lagged market benchmarks for the most part since 2013, a breakup of trading activity in the equity derivative segment shows an increased share of stock futures in the total volume.
Since March this year, the contribution of stock futures to total f&O activity has increased continuously. In April 2014, 2.25 crore stock futures contracts were traded on the NSE accounting for a fifth of the total contracts traded (11.22 crore). This marks the highest participation in the product since October 2010. Meanwhile, participation in index options — the most popular derivatives product in India — has moderated with its share in total trading coming down from 70% to 58%.
Traders point out that increased market momentum has led to higher interest in the mid-cap pack, in turn driving trading in stock futures.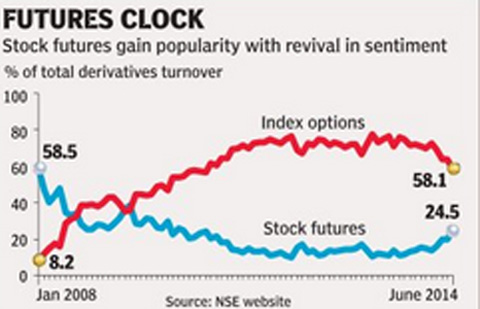 "Whenever trading interest in mid-cap stocks goes up, stock futures witness higher participation as speculative as well as hedging positions on these counters shore up. Lately, an increasing number of mid-cap stocks are seeing strong daily gains, so this is an obvious development," said a derivatives trader with a domestic brokerage house.
In the year so far, mid-cap and small-cap indices on the BSE have outdone the Sensex by a huge margin after underperforming the bluechip index in the previous year. These indices have yielded 33.6% and 46.9%, respectively, in 2014 while the Sensex has rallied 18.2%.
"With buoyant market sentiment the derivatives segment is also observing participation of all types of participants including FIIs and retail traders, which are active in intraday trading. Stock-specific trading interest, especially from mid-caps and cyclicals, has gone up substantially," added head of derivatives at another broking house.