So the trend carries on. TCS and HCL continue on their progressive journey while Infosys and Wipro are stuck in quicksand. The situation is likely to be this way for some time, unless the Bangalore-based IT majors can discover their magic touch quickly
The last quarter of the financial year 2012-13 has deepened the fears investors and analysts had for some time. The widening wedge between the out-performers and the under-performers in the IT industry and the growth projections for this financial year are set to amplify the performance gap. The trailblazers of yesteryears Infosys and Wipro—have consistently come behind Tata Consultancy Services (TCS) and HCL Technologies in key parameters like employee utilisation rate and rate of growth. The once superior operating margins (OPM) of Infosys—reported the lowest ever operating profit margins in Q4—and has now lagged behind TCS for the past three consecutive quarters. The difference between the two IT majors also extends to the utilisation rate, with TCS at 82% while for Infosys stood at 73.9%. This heterogeneous trend is here to stay for some time, feel analysts.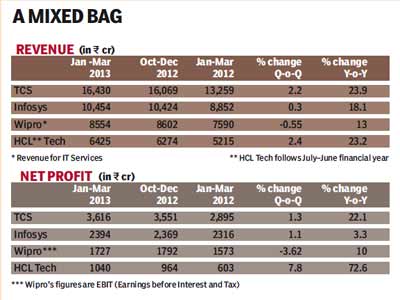 To be fair to these Bangalore-based companies, they are restructuring and some senior level managerial changes are happening. However, the revenue gap between India's number one IT services exporter TCS and its rival Infosys has more than tripled in the last four financial years, revealing the different growth trajectories of both the companies. TCS at the end of FY13 reported a consolidated revenue of R62,989 crore against Infosys' topline at R40,352 crore, a difference of R22,637 crore. However, this was not the situation four years ago when the revenue difference was around R7,000 crore.
Industry leader TCS is however gung-ho about FY14. "We are chasing more large deals today both in terms of numbers and value than we were last year and our commentary is that FY14 will be a better year than FY13," said N Chandrasekaran, its CEO and managing director. Infosys, meanwhile provided a subdued revenue guidance for FY14 saying it would grow its topline between 6% and 10%, compared with Nasscom's projection for the industry of between 12% and 14%.
Meanwhile Wipro's IT services revenue is projected to at -0.6%-1.6% over the previous quarter whereas the analysts were expecting a rise of 1-4%. And this is coming on back of a sequential decline of EBIT (earnings before interest and taxes) at 3.62% from R1,792